The beer garden at Ballard FC games is expanded in space and is now all ages! This year, the beer garden benefits the Ballard FC Foundation and still proudly serves Reuben's Brews with a variety of beer options, including Interbay IPA! All participants must read the rules and by entering the beer garden agree to the rules listed here which will also be posted outside of the beer garden and sent via email to all ticket holders. The expanded and all-ages beer garden is intended to be more family-friendly. Ballard FC reserves the right to remove anyone from the beer garden and venue entirely for failing to comply with posted rules.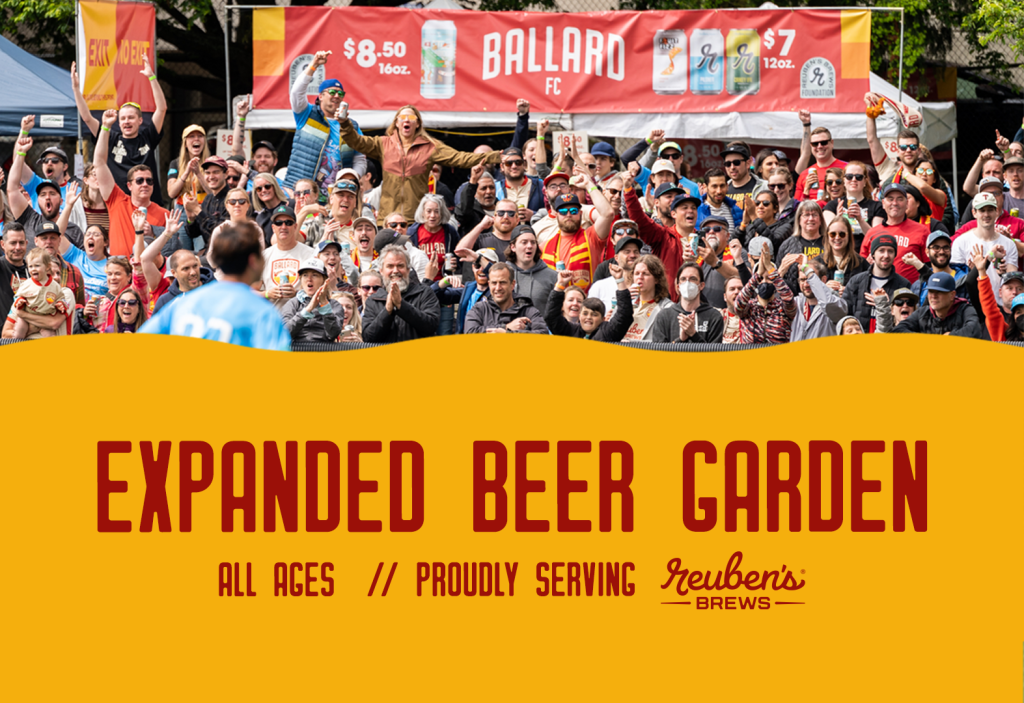 Rules for the Ballard FC Foundation Beer Garden
1) Any guest under age 21 entering an event location where alcohol is served must be accompanied at all times by his/her parent or legal guardian (over 21).

2) Parent or legal guardians who by entering the beer garden are accepting posted rules and regulations liability and agree to be responsible for minors prior to entering any location where alcohol is served.

3) Event staff will provide wristbands for all guests over 21 and any guest under age 21 will have a unique wristband. Wristbands must be worn at all times by all.

4) Alcohol will only be served to a person with a valid ID indicating the person is over age 21.

5) Event staff will limit sale of alcohol to two drinks per person over age 21 at a time. No persons under 21 shall possess or consume alcohol.

6) All drinks (alcoholic and non-alcoholic) will be served in branded beer cans and all non-alcoholic beverages will be serviced in clear plastic containers.

7) Beer containers will not exceed 16 ounces.

8) Alcohol will not be served to anyone that is visibly intoxicated and/or under the influence of alcohol and drugs.

9) Alcohol will only be served from fixed locations and there shall be no mobile vending of alcoholic beverages.

10) Alcohol service will occur during daylight hours only. The hours and days of operation shall be determined on a case by case basis by the Special Events Committee.

11) The event will hire private event staff/security to monitor the area of the event where alcohol is served. All private event staff/security will be licensed and MAST liquor enforcement trained security officers shall be assigned to monitor the event. The location and number of officers shall be determined on a case by case basis to meet the needs of LCB.

12) The event will have age appropriate activities catered to children.

13) Event rules to be plainly posted within the area at each entrance point.

14) Comply with all the rules and regulations contained within the City of Seattle Special Events License.
15) Comply with all WSCLB rules and regulations.

16) The event shall require all staff, volunteers and security employees to obtain training by WSLCB regarding appropriate sales of alcohol and recognition of signs of intoxication, and training regarding proper identification. All staff and security personnel whose work directly involves the regulation or supervision of the sale or service of alcohol must be TEAM and/or MAST trained.

17) Event will make all employees and vendors aware of these conditions.

18) Failure to comply with any of these rules will result in immediate termination of all ages/family beer garden service.