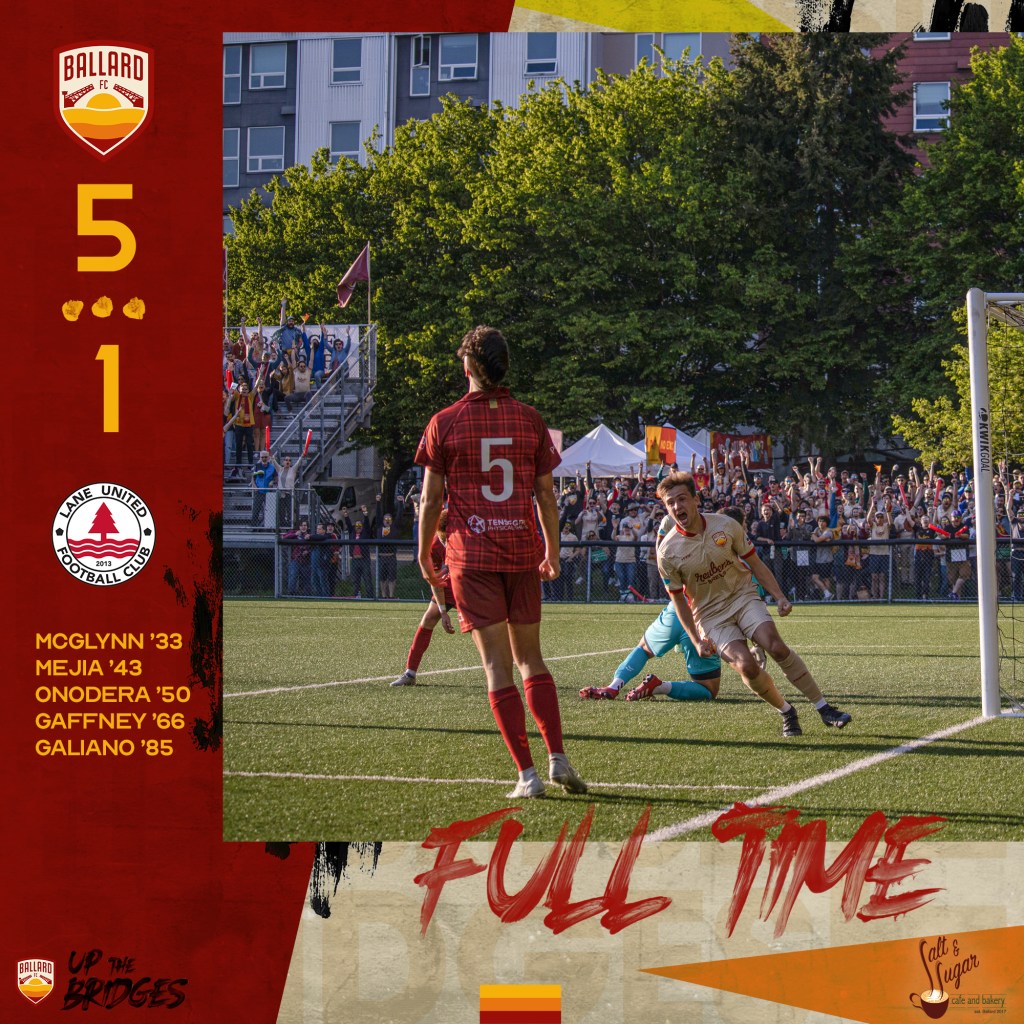 MAY 21, 2022 Ignited by a 34th minute goal from Declan McGlynn, Ballard FC defeated Lane United FC 5-1 on Saturday, May 21, earning a win in the first-ever match in the club's history. Ballard FC now sits in first place in the USL2 Northwest Division standings.
Ballard FC won their inaugural match in front of a sold out crowd of 1,200. The fans brought an incredible energy to the game, creating an electric atmosphere that could be felt throughout Interbay Stadium.
"This is a team full of young men that have completely bought into what we are trying to do. They come from different backgrounds, they play at different levels, and, really from the first training session that we had with them, everybody has been on the same page. We've got an awesome staff of coaches that bring unique experiences and skill sets to what we're doing. I'm just so proud of the way that tonight transpired both for the players and for the fans." Said Head Coach Jason Farrell.
Ballard FC opened the scoring on a McGlynn free kick in the 34' after being fouled outside of the box.
Nine minutes later, Alex Mejia drove one in to double the lead after an inch-perfect pass from Charlie Gaffney.
In the 50' Taketo Onadero scored the team's third goal with a shot into the bottom corner after a Peter Kingston pass.
Scoring the fourth goal of the game was "Man of the Match", Charlie Gaffney. Mejia set Gaffney up with a near- perfect assist, giving him a straight shot at the goal in the 66'.
"I grew up right over the hill in Queen Anne, so I was looking forward to the first match. I was a little nervous but I think it all turned out really well, so I'm really happy. I don't think that I've ever played for a team with this many fans and supporters. It's awesome." Gaffney said.
When asked about his assist from Mejia, Gaffney explained, "In the preseason games I had three assists and they were all to him, so I think that it's a great connection that's being formed and I'm looking forward to more."
Fresh off the bench, Kevin Galiano finished the scoring for Ballard FC with a strike from distance in the 86th minute.
With only two minutes left to play, Duncan Mcguire got Lane United FC on the board with a goal in the 88th minute.
After the first win in club history, the players headed over to the front gates to sign autographs and to take photos with fans.
"I think the community of Ballard has really wanted something like this for a long time, and like I told the guys in the locker room beforehand, I think that this community is looking for a hero and that was my challenge to the them. We're all good players, none of us are big timers yet, and these are the experiences, these are the moments where we can become big timers." Farrell said.
Ballard faces Oly Town FC at Interbay Stadium on Monday, May 30. This match is sold out, but there are still tickets available for five of the remaining seven Ballard FC home matches. Tickets are available here!
Photos courtesy of Marissa Lordahl
Highlights: