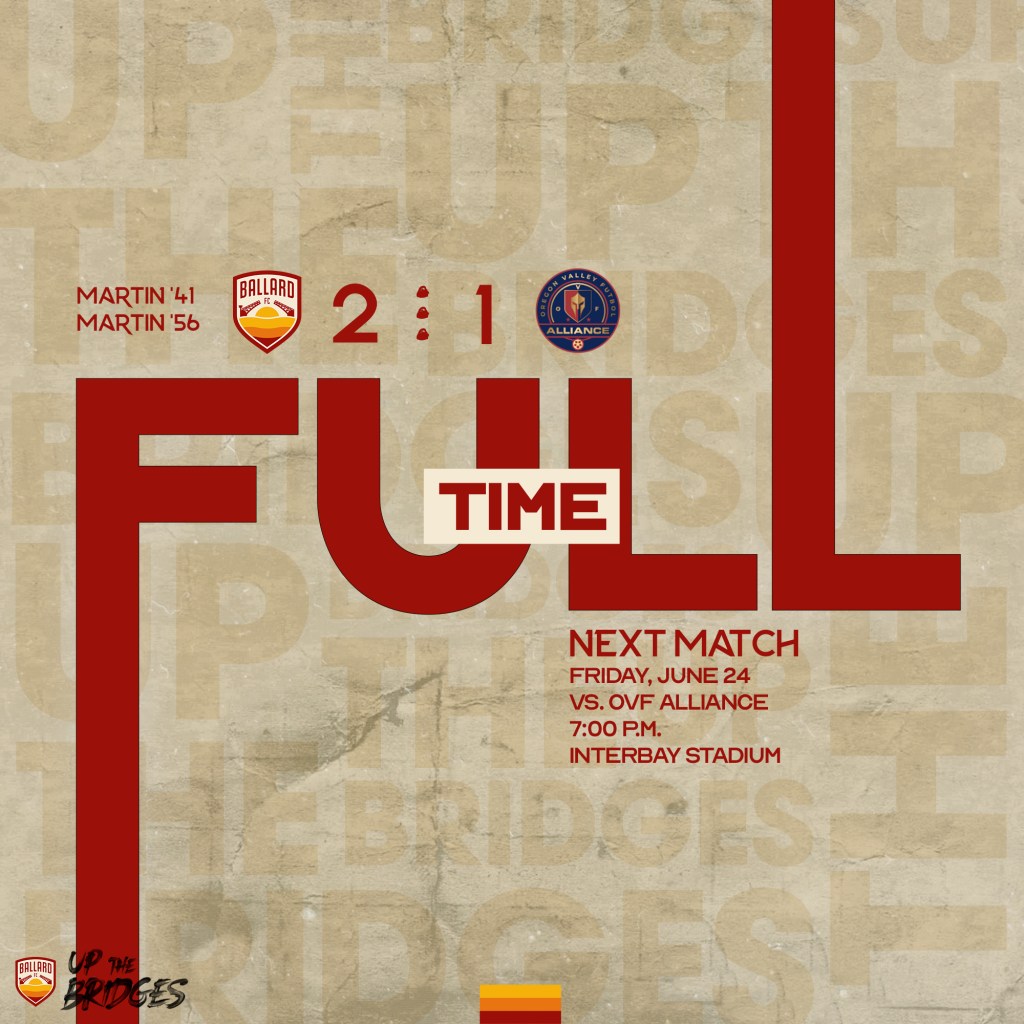 A Cameron Martin brace rescued the three points for Ballard FC in Albany as they beat OVF Alliance 2-1.
After drawing two matches in a row, Ballard FC had to fight back to get back in the win column after falling behind early.
The match started even with both teams creating dangerous chances and nearly opening the scoring in the first 10 minutes.
Ultimately, it would be the home team to get on the board first. Arturo Bahena raced down the right end line past multiple Ballard defenders and then finished past goalkeeper Akili Kasim at the near post in the 16th minute.
After not trailing in their first four league games, Ballard conceded the opening goal in both of their matches this weekend. And for the second match in a row, Ballard showed their fighting spirit.
Ballard immediately were on the search for an equalizer as Tyler Bjork and Kevin Galiano both came close in the next 15 minutes following OVF's opener.
Right before the half, Ballard did find a goal. Although Galiano didn't score, he did assist it with a cross that found Cameron Martin's head to finish in the 41st minute. It's Martin's first goal of the season, and it could hardly have come at a more important time.
The two teams went into halftime tied, but with the momentum on Ballard's side.
Although Ballard had the momentum and started strongly it was OVF who nearly broke the deadlock in the 53rd minute. A shot from 25 yards out was destined for the top corner until Kasim got his fingertips to the ball and forced it on the crossbar.
After Kasim's save, Ballard would finally cash in on their momentum in the 56th minute as Martin would get his second goal of the game. Peter Kingston cut through the defense to set up Declan McGlynn whose shot was blocked but fell to Martin who quickly pounced to score the second.
After taking the lead, the last 35 minutes of the match were very tense with OVF applying pressure, trying to bring the score level. OVF forced Ballard onto the backfoot and Kasim had to step up. Arguably Kasim's best of the afternoon came in the 71st minute when he made a diving stop to his left and pushed the ball out of danger.
The Ballard defense stood tall and held on for victory and the match finished 2-1. Ballard FC now sits on top of the league standings thanks to goal differential.
Ballard FC takes on OVF Alliance again this Friday night, June 24th at Interbay Stadium. Tickets are sold out, but you can watch the game LIVE at goballardfc.com or at Reuben's Brews. There are still tickets left for the final three home games, purchase yours HERE.