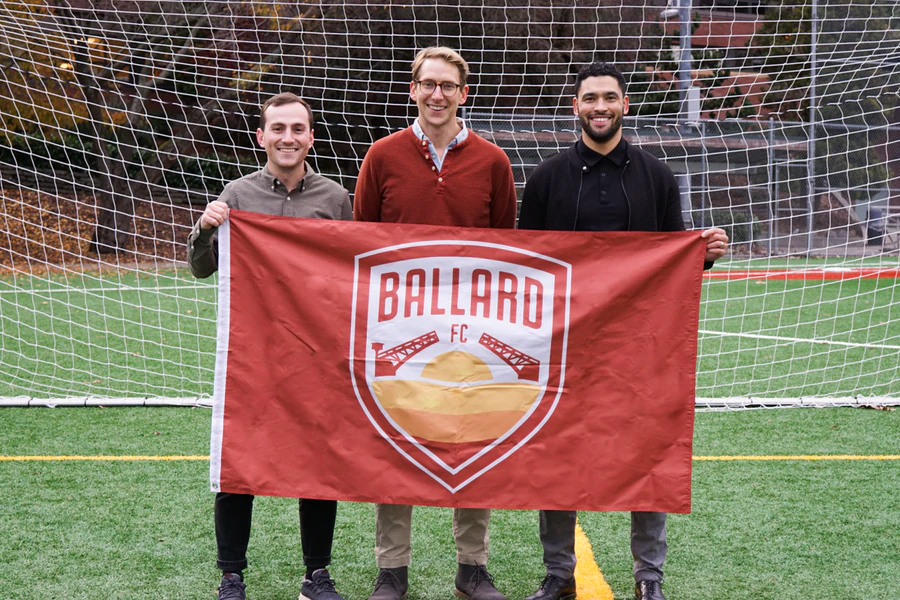 Ballard FC today announced the formation of the Seattle region's first neighborhood-based semi-professional soccer team. Starting in Summer 2022, the team will compete in the USL League Two and hold home games at Interbay Stadium. Ballard FC was co-founded by Seattle Sounders FC legend and Federal Way, Wash. native, Lamar Neagle, and Ballard High School graduates and seasoned soccer leaders, Sam Zisette and Chris Kaimmer.
The team will host eight home games throughout the summer-long league and provide fans with a community-oriented gameday experience including kids' activities, locally-owned food vendors and craft beers, Ballard-centric theme nights, and fundraising opportunities for local organizations. Of the 1,000 seat capacity Interbay Stadium, approximately 300 tickets will be allocated for season tickets. Season ticket deposits are available online for $22.
"Bringing a high-caliber soccer team to the greater Ballard area has been a dream for a long time. What will distinguish Ballard FC is our integration and commitment to the community," said Ballard FC co-founder, Sam Zisette. "Everything we do will be intimate and hyper-local: from the game-day activations to the players, sponsors and community partners. Ballard is truly a special place with a proud history and culture all its own. There is no community more ready for this!"
Ballard FC will draw from the region's best mens soccer players including local collegiate stars, ex-professionals and rising youth players. For many players, USL League Two is the last step before playing professionally. Tryouts and player selection are anticipated to occur in March 2022.
"Prior to going pro, I played with the Des Moines Menace, a USL League Two team out of Iowa," said former Seattle Sounders FC star, Lamar Neagle. "So I know first-hand the incredible impact community-centered teams can have on both up-and-coming players, and the community at large. This is an exciting time for soccer fans and players alike."
As the league's newest expansion team, Ballard FC will play in the Northwest Division of the Western Conference in USL League Two. Divisional opponents are located in Washington and Oregon. The summer-only season consists of 14 regular season division matches followed by playoffs. Eighty percent of MLS Draft selections since 2010 have played in the USL League Two.