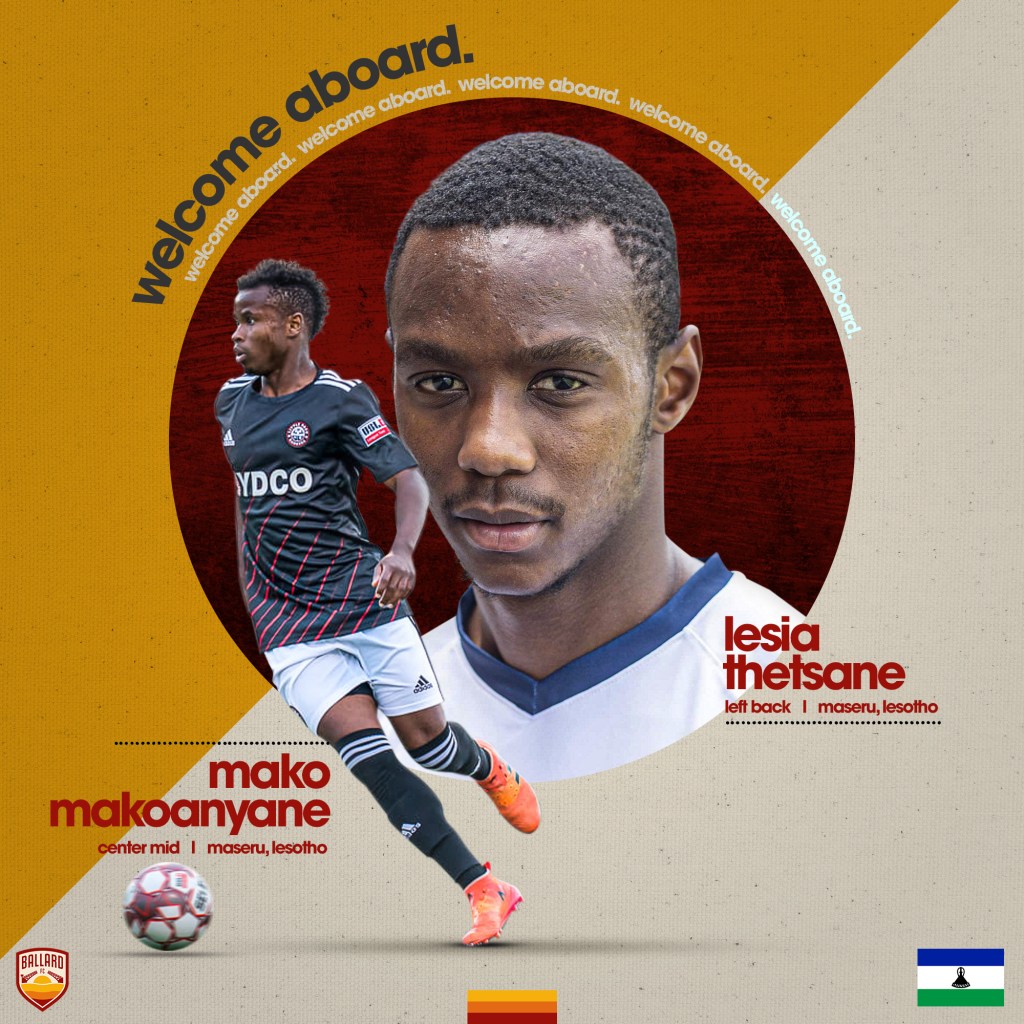 Last week Ballard FC Volunteer Casey Elkins and Co-Founder Chris Kaimmer held a virtual interview with Ballard FC's two newest players, Mako Makoanyane and Lesia Thetsane, to talk about their soccer careers and their eagerness to sign with Ballard FC. Mako and Lesia are both from Lesotho, a small country in the southern part of Africa, and they came to the United States in 2016 to play college soccer and study at Columbia College in Columbia, MO. As Ballard FC's first international signings, we wanted learn about their journeys first-hand and explore the paths that led them to Ballard FC.
Lesia and Mako are both products of the Kick4Life academy in Lesotho, a soccer club dedicated to social change through sport. Kick4Life is registered charity in Lesotho, the UK, and the US, with a mission "to change the lives and long-term prospects of vulnerable young people in Lesotho, through a wide range of social development activities focused on health, education and support towards sustainable livelihoods." You can learn more about Kick4Life on their website.
The interview was held conversationally, and has therefore been edited for brevity and clarity.
C: Tell us a little about the soccer culture where you grew up. Is it the biggest sport in Lesotho?
M: Back where we're from, we play mostly a European style of football. The difference between back home and here is that back home we train a lot, more than we play games. The whole week is just training. We do mostly running and conditioning, whereas over here it's more weight-lifting. Also there are more games here. I would say it's the biggest sport back home.
L: Yeah, soccer is the biggest sport there. Most people grow up playing it.
C: When did you know you wanted to become a soccer player?
L: Honestly as soon as I started kicking a ball, I was like, "This is definitely for me." From there onwards, I just focused on it and nothing else. I just played soccer. I'm still working on it, and so far it's going well. As soon as I started kicking a ball, that's when I realized I love this sport and I'm definitely going to become a professional player.
M: It's a big sport back home, so from a young age, your brothers are kicking you the ball and you just like playing. But to join a team and actually say "I'm going to play soccer as a career," that was because of a CAF Champions League game when I was seven or eight years old. Platinum Stars FC was going to play one of our big clubs in Lesotho [Lesotho Correctional Services FC], and before that game the development teams would play first. I was at the stadium watching these little kids, kids my age, and thinking "Oh wow! I really want to do that!" I went back home and told my ma that I really wanted to join a team and I started playing.
C: What is your favorite memory of your soccer journey so far?
M: I have a lot. I would say playing in the national tournament in college. Also playing for my U20 national team in Mozambique for the Africa Cup of Nations Qualifiers.
L: I would say scoring two goals for my U17 national team against South Africa, and also getting a call up for the senior national team in 2019. Those were both really memorable for me.
C: What is the biggest challenge you've had to overcome so far in your soccer journey?
L: Back when I was in college, when I was trying to balance both school and soccer, it was a challenge. I wanted to do well in both. Sometimes when I would focus more on soccer, my grades would suffer. Then when I'd focus more on school, I felt my soccer suffering. Balancing the two wasn't a big challenge, but it was a challenge that I had to overcome.
M: The biggest challenge for me came after graduation. We didn't have everything paid for anymore, so we had to make money to live. The challenge was that we wanted to play soccer, and after college is when we started traveling around, trying out for teams. It was really expensive and we couldn't get full-time jobs because we wanted to be able to go to the tryouts. That period was really difficult because we were also waiting for our visas, meaning we couldn't really work, either. So we had to find a way to make it work and get to our tryouts. I traveled to like six different states and I still don't know how I did it. We only made it work because every time we needed help, Kick4Life stepped in and helped us.
C: What can you tell us about Kick4Life and what does it mean to you?
M: It was founded in 2005 by Steve and Pete [Fleming] and it's aimed at social change back home, to raise HIV awareness, social skills, stuff like that. They're using soccer as a tool to get to people and raise HIV awareness, which is prevalent back home. I joined Kick4Life at 14 years old, when their academy was started. From there I got promoted to the senior team at 17 years old. So since I joined Kick4Life, my life changed. When I joined Kick4Life, I became more focused. I had purpose. Kick4Life showed me the way and they supported me a lot. They gave me an opportunity to come to the US to study and play soccer, and that was life-changing. Kick4Life means a lot to me. I'm very grateful to them.
L: Kick4Life means a lot to me as well. It taught me a lot of things on and off the field. It taught me off-the-field and on-the-field discipline. It also taught me that you can focus on what you love and actually change your life through what you love. And that's what I'm doing right now. Soccer changed my life. I'm still playing soccer and I'm not going to stop anytime soon. So Kick4Life did a very good job and it means a lot to me.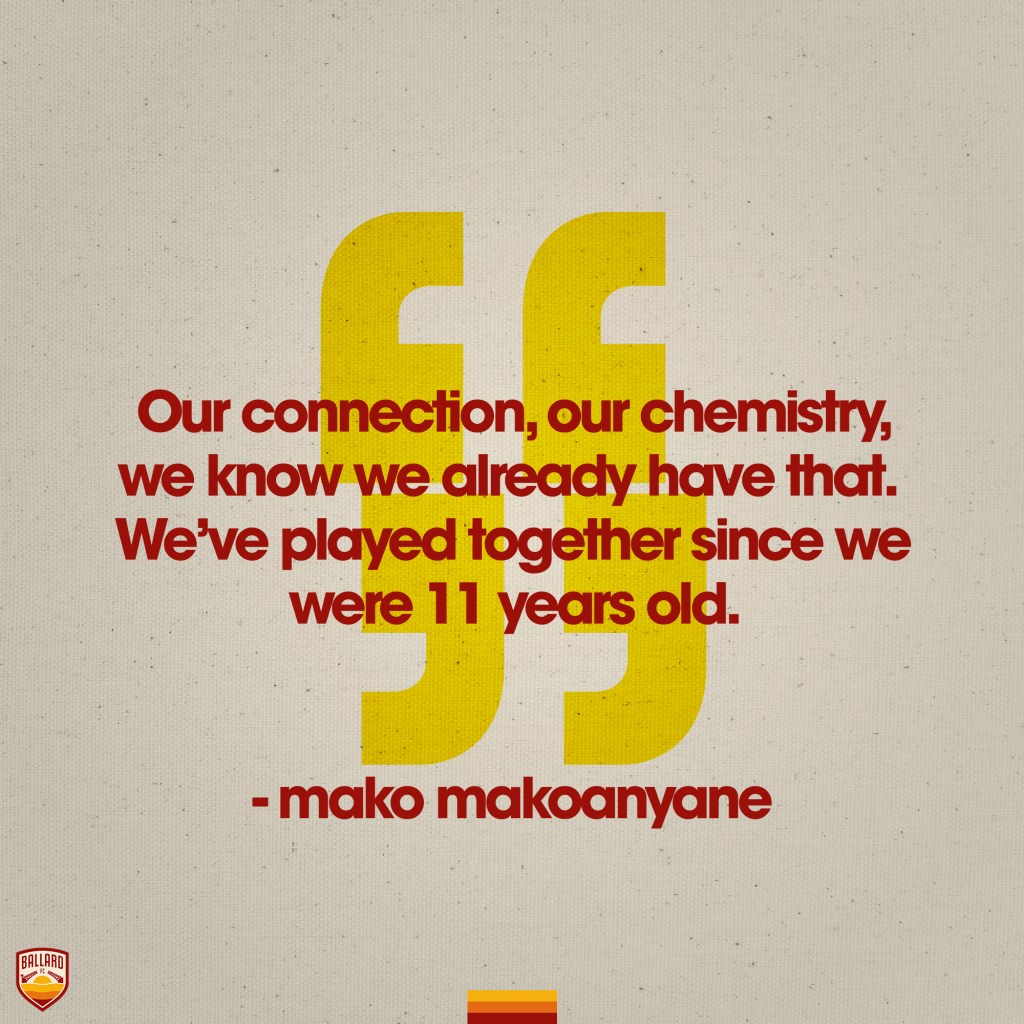 C: The last time you played on an outdoor 11v11 team together was in college. How do you feel about getting the band back together?
M: We're really excited. We're back together! Our connection, our chemistry, we know we already have that. We've played together since we were 11 years old. Even when we're not on the same team, we try to find small pickup games to play together.
L: Obviously I'm excited to play with Mako. The last time we played together was in 2019 and we won all of our games. The only game we lost was in the semi-finals of the national championship. The coach liked us, we were doing well for the team and working hard. So we're going to bring that to Ballard FC.
C: I'm sure many of you had many options for where you could play soccer. What made you choose Ballard FC?
L: I think it's a very good team. It's a new team. I talked to a few guys and they were very nice. The way they were talking to me, everything sounded very organized and professional. So I would say that I want to be there and help the team because it's a new team, it looks professional, and it's in a very good area, so I feel like there are lots of opportunities.
M: When Ballard FC was introduced to play in the USL, I started following them on Instagram. I saw how the fans were so excited about the team, and thought, "Ballard looks pretty nice!" I looked at some USL2 teams that would come up, and saw that some of them were big and had a big community supporting them. After that I thought, "That sounds good." Then I talked to [Ballard FC Co-Founder] Chris [Kaimmer] and I talked to [Ballard FC Head Coach] Jason [Farrell] and thought they sounded professional. They sounded very excited and like they wanted us over there. The player support that Ballard FC offers is maybe the best support that you can get at the USL2 level. [A professional environment] is the environment that we want to play in if we want to grow in our soccer careers. We felt that Ballard FC will help us with that. It fits with the Kick4Life program and the journey that we're in, and I felt that it's the best place for us to go.
C: What would you say are your long-term goals as a soccer player and as a person?
M: As a soccer player I want to play at the highest level possible. I'm working very hard to make sure that I get to the highest level that I personally can play, as long as I'm healthy to do so. Personally, I don't want to leave soccer. In the long-term I still want to stay in the sport. I'm more into fitness/exercise, so I want to be a fitness coach after my soccer career is over.
L: I also want to play at the very highest level. Honestly, I want to be involved in soccer for the rest of my life. When I'm done playing, I'm looking forward to coaching. I've already started coaching, and I'm going to start my coaching license soon. I'm working on that so when my playing days are over, I can get into coaching.
C: What has surprised you about soccer in the US?
L: What has surprised me was the way they train in the US. Like Mako said, back home it's a lot of running. Here it's more weights. Preseason here is not really like preseason back home. We still do weights, but it's a lot more running. I was also surprised how structured and organized some of the organizations are in the USA. Especially the way kids start playing competitively at an early age. That was surprising and impressive to me.
M: For me, the fitness part was also surprising. The biggest thing that surprised me was that we were late arriving in the US because of visas, and thought we'd be unfit. The other guys had already been in preseason for two weeks by the time we arrived. But then we realized that we were already ahead of them because of the way we train back home. A second surprise was, yes, how everything was organized. It doesn't matter how small the team is. Another surprise was over here, compared to back home, it's more tactical. Back home we have talented players, and it's more technical. Over here the players focus more on what the coach is saying and go out and implement it. We do that back home, but we rely more on technical ability than we do on tactical approaches.
C: What do you like to do when you're not playing soccer?
M: I like working out. I like fitness, so I'm mostly in the gym. When I'm not doing that, I like being inside. I like just having time to myself. Most of the time I'm tired, so I like to take naps and watch movies. Stuff like that.
L: I also like to work out, but most of the time I'm chilling because I play a lot and I feel like my body deserves a rest. So I always take naps and rest and let my body recover, and sometimes play FIFA with Mako.
C: Do you have a favorite professional team or league?
L: I used to like Barcelona, but not anymore. I'm starting to lose interest to be honest. But I used to like Barcelona a lot, especially back in the Xavi and Iniesta days. But now I'm here to find another team.
M: My team is definitely Liverpool. Lesia knows it. I'm a Liverpool fan.
L: No, no no. He goes with any team that's good. If Liverpool is doing good, he's gonna go with Liverpool. Next year, if Man City is doing good, he's gonna go with them.
M: [Laughs and shakes head] That's not true.
C: Have either of you been to Seattle before? If not, what do you know about the city?
M: I haven't been before. I know it's in the far corner over there, in Washington state. I don't know much but I've seen pictures.
L: Yes, I have been to Seattle when we played Tacoma stars with the Kansas City Comets [MASL Professional Indoor Soccer]. It was for a short time and now I'm excited to be there for long time. I know it's supposed to be nice during the summer. So I'm definitely going to enjoy the summer. I'm looking forward to learning more when I'm there.
C: What would you like Ballard FC fans to know about Lesotho?
L: It's a very nice country. It's a landlocked country inside South Africa. It has two players, Mako and Lesia, who are representing them and are going to make sure Ballard FC wins their games and does well this season.
M: It's a beautiful country. It's a small country with a population of about two million. It's a mountainous region. It's called The Kingdom in the Sky because of its altitude. We have the biggest man-made damn in Southern Africa. We have one of the tallest waterfalls in Africa, as well. Lesotho is beautiful and peaceful. We are 99% Basotho people [singular Masotho], so we all speak our language [Sesotho].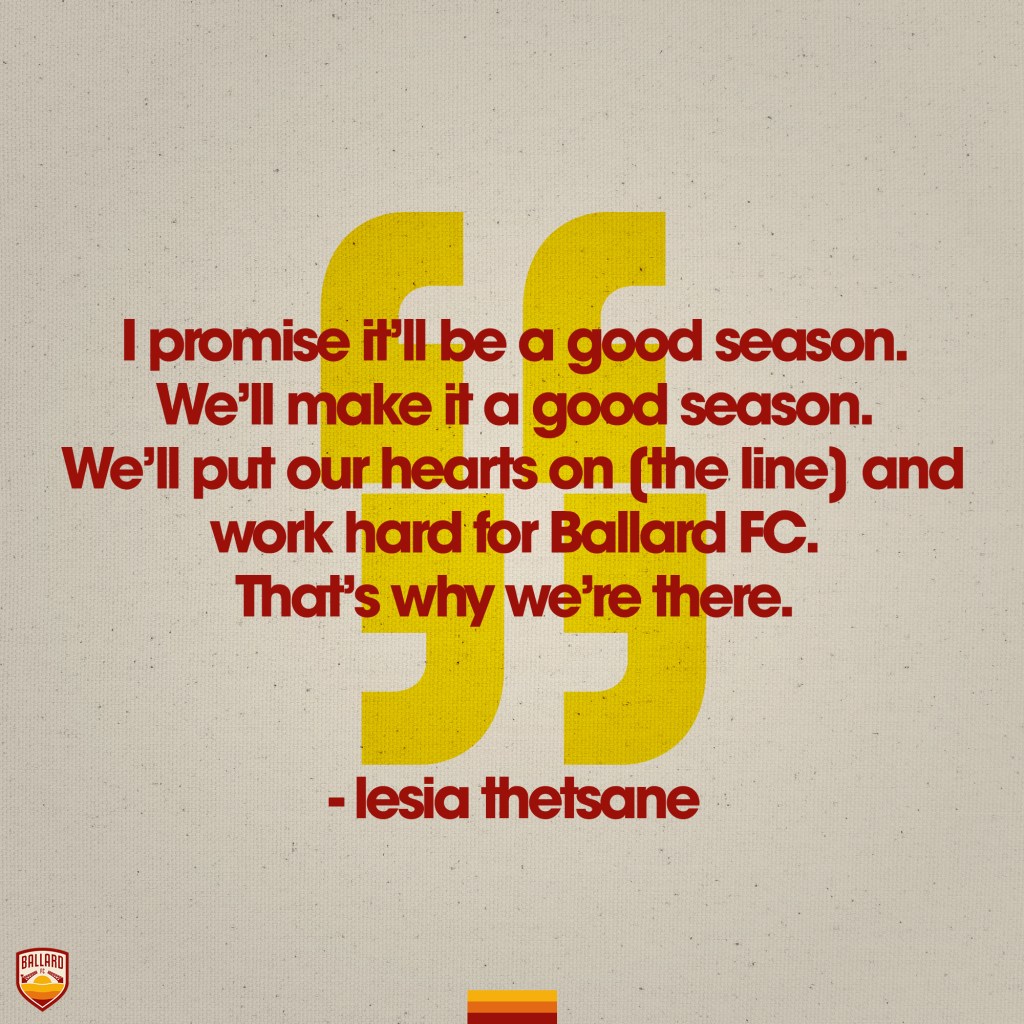 C: Do either of you have a message for the Ballard FC fans?
M: I'll start! I'm very excited. We both are. We talk about it every day. I follow Ballard FC on Instagram. I just want to say to the fans and the whole Ballard family that we're really excited. We're working hard, making sure that we're healthy, we're fit, so that when we get there we can perform for the team, help the team, play for the club and the community and make everyone happy. We really appreciate Ballard FC giving us the opportunity to come to Ballard and play in this very special season, the inaugural season. It's very special to us that you considered us to come and play for you.
L: I'm very excited to be joining Ballard FC. I cannot wait to meet everybody, the fans, I cannot wait for the first game, when we actually win our first game at the stadium. I promise it'll be a good season. We'll make it a good season. We'll put our hearts on [the line] and work hard for Ballard FC. That's why we're there.