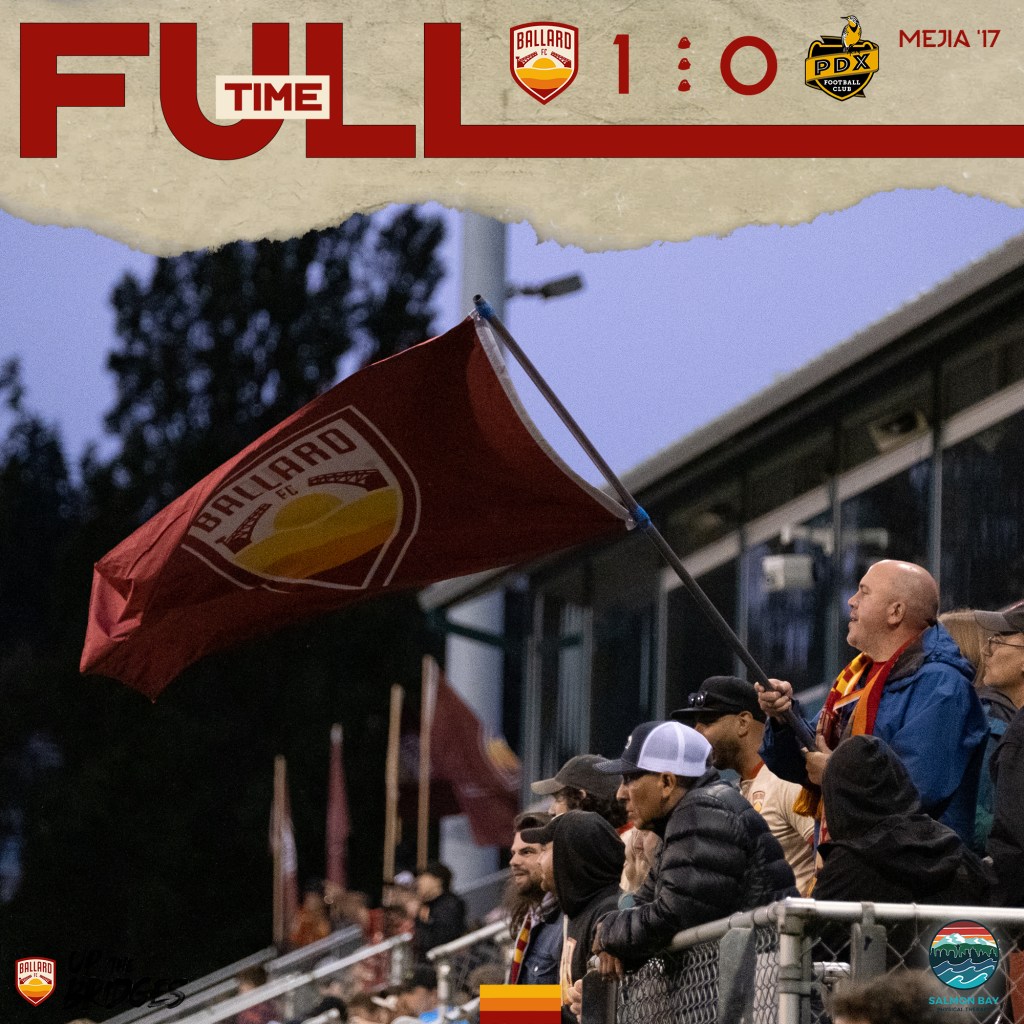 A stunning goal from Alex Mejia and saves from Akili Kasim ignited a 1-0 Ballard FC win against USL2 rival PDX FC on Friday, June 10. Winning all of their home matches so far this season, Ballard FC continually rewards their fans at Interbay Stadium.
In front of a sold out crowd of 1,300 people, Ballard FC won their third game in a row. Initiated by the Bridgekeepers, the fans brought an enthusiasm to Friday's game to inspire another team victory.
The game began tensely, with both teams creating chances early on but neither being able to break the deadlock. Following a blocked strike from Charlie Gaffney, Alex Mejia committed to the rebound to open the scoring in the 17th minute. Mejia took advantage of this opportunity and launched the ball right past the goalkeeper's hand and into the bottom left corner of the net to score the only goal of the game, putting Ballard FC up 1-0.
Following Mejia's goal, Akili made an impressive 1 v. 1 stop in the 42nd minute to keep Ballard FC in front.
In the 78th minute, Akili made a diving save to block a PDX rocket, deflecting it right out of the goal's range.
"Our team defense was pretty stellar. Akili came up big when he had to come up big. Leo and Calfo in the centerback were amazing. They were winning balls like crazy." Head Coach Jason Farrell emphasized.
With an intensely competative two minutes added to the end of the game clock, Ballard FC was able to maintain their 1-0 lead to clinch a win over PDX FC.
"We had to do a full team effort and we got a gritty win out of that. We just put on a fantastic performance overall," said Man of the Match, Angelo Calfo.
Just two days after defeating PDX FC, Ballard FC hit the road to once again face Oly Town FC on Sunday, June 12 in Olympia, Washington.
Ignited by an impressive goal from Man of the Match Declan McGlynn, and an equalizer from Oly Town's Alex Zimmerman, Ballard FC tied Oly Town FC in Sunday's match
After a fast start with great chances for both sides, Declan McGlynn opened the scoring in the 38th minute with a first time finish after being set up by teammate Nik Reierson.
Just minutes later, Oly Town's Alec Zimmerman secured a goal for the team in the 40th, putting Oly Town FC on the board evening the score at 1-1.
The teams went into halftime all square, leaving it all to play for in the second 45.
After a first half in which Oly Town arguably had the better chances, Ballard came out strong in the second half and were the better team. During this period of dominance, Ballard FC came within inches of scoring, but Kevin Galiano's effort was denied by the woodwork in the 56th minute.
Galiano is in fine form with three goals in three league games heading into Sunday, and was agonizingly close to grabbing his fourth of the season but the square posts of Black Hills High School were unforgiving.
The rest of the game felt almost like basketball, with countless counter attacks from both teams making for a frantic finale. Both goalkeepers came up big, especially Ballard FC's Lars Helleren, who stepped in for Akili Kasim on Sunday. Helleren made some big saves and was phenomenal with his feet in Kasim's absence.
Helleren punctuated his performance with one final piece of action: a diving save in the 90th minute as the ball was destined for the bottom right corner, not only saving the point but also the undefeated season.
The match finished 1-1, with the two teams earning a point. After this weekend's action, Ballard FC remain the only undefeated team in the division and are currently in second place with two games in hand in the league standings.
Ballard FC hits the road once again to take on Lane United FC in Eugene, OR on Friday, June 17 and OVF Alliance on Sunday, June 19.