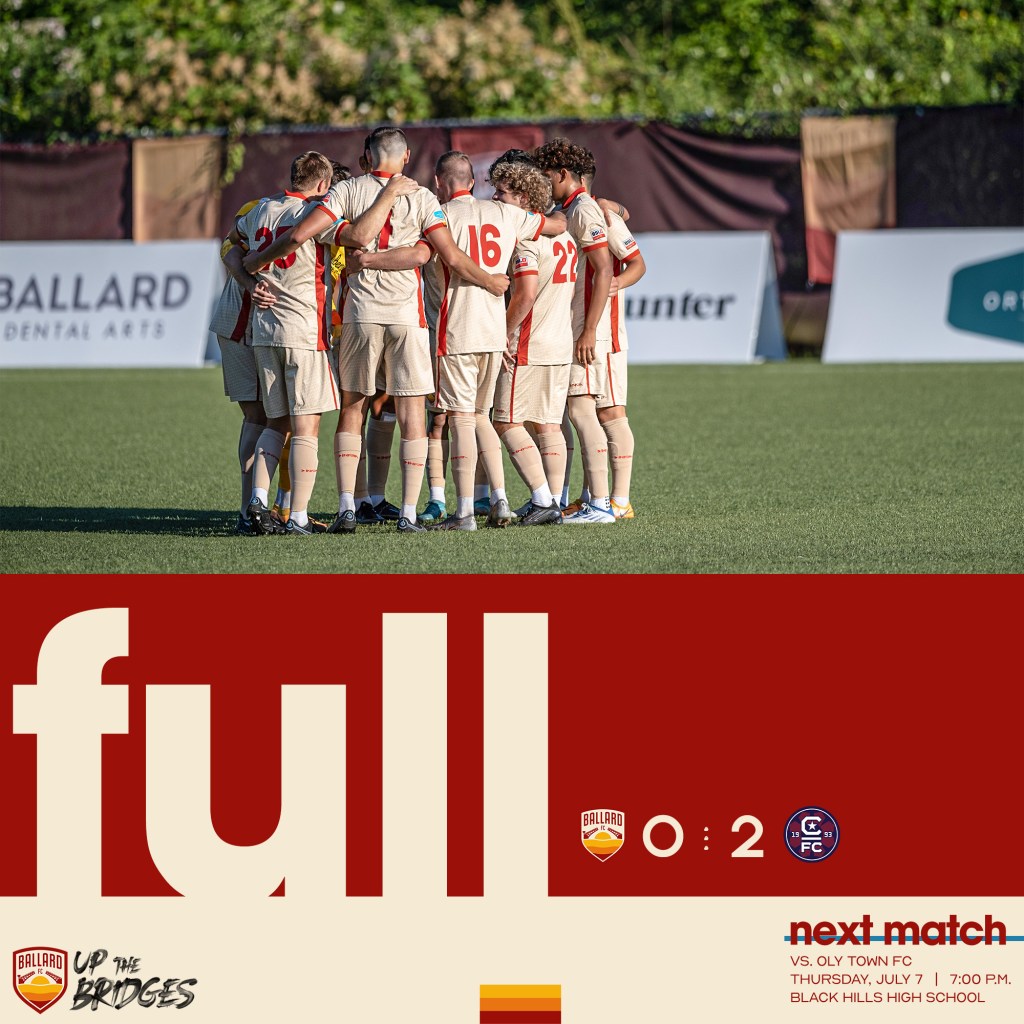 A brace from Marco Afonso helped Capital FC hand Ballard FC their first ever loss and reclaim first place in the division standings.
Interbay was electric on Friday night, the loudest it has been all year. Led by the Bridgekeepers, the crowd was in full force all match.
The match itself started brightly for Ballard FC, with the hosts dominating the play and with the better chances. The best of the bunch came from a Cameron Martin volley in the eighth minute, forcing goalkeeper Quinn McCallion to tip the ball over the bar.
After about 25 minutes the match the momentum shifted, largely due to the danger of winger Jeremy Opong creating opportunities for the visitors on the wing. The most dangerous passage of play came in the 28th minute when Opong's shot was saved and tipped onto the bar spectacularly by Akili Kasim.
Ballard FC held on for the last 15 minutes of the half to go into the break at 0-0.
The second half started very chippy with lots of fouls from both sides. Both clubs received yellows within in 20 minutes and the opener would come from a set piece after yet another foul.
In the 70th minute, Capital FC's Jose Sosa sent in a ball from the ensuing set piece which found the head of Gabriel Silva. Silva headed back across goal and found the feet of Afonso who tapped it home.
Ballard immediately pushed for an equalizer sending bodies forward, but leaving them exposed at the back. In the 76th minute, Capital FC would make Ballard pay for the lack of defensive cover. After intercepting a pass in the attacking third, Nicholas Denley played Afonso through on goal and he dispatched his second of the night in the 76th minute.
After the two goals, the match got even chippier. The second half finished with a total of nine cards, seven yellows and two reds. The two red cards both went to Capital FC: Jeremy Opong received red from the bench in the 83rd minute and Nathan Masters was sent off right before the final whistle for a reckless challenge.
Fortunately there were no serious injuries, and the match finished with Capital FC as 2-0 victors.
Ballard FC has a chance to secure a playoff spot with a win on Thursday July 7th at 7:00 PM as they take on Oly Town FC in Olympia. The match will be live streamed on Oly Town's youtube. On Sunday July 10th, Ballard FC and Capital FC will meet again in Salem at 2:00 PM in a match that will likely decide the division title. You can stream that match on Eleven Sports.
Ballard FC will return to Interbay Stadium on July 15th for a friendly against Snohomish County FC, purchase your tickets today!
Photos courtesy of Blake Dahlin