On June 24th, Ballard FC Digital Content Intern Alex Audette spent the day taking in the match day experience and talking with fans about their experience and what they enjoy about a Ballard FC match.
The Ballard FC match day experience goes beyond just watching 90 minutes of soccer because of the highly skilled team to root for and the incredibly passionate fanbase to unite around. It's an experience to remember.
On May 21 of this year, Ballard FC began their first season by not only winning on the field but also by giving fans an unforgettable match day experience off of it that keeps people coming back for more.
The gates open an hour and a half before each match's start, giving fans a variety of experiences as they enter Interbay Stadium. A large sign showing visitors around the stadium greets them as they arrive. The majority of spectators start by turning to the left because there are many wonderful local Ballard food trucks and food tent options there as well as a variety of refreshments available for purchase at the concession stand. After purchasing a tasty taco from the Birrieria Pepe El Toro food truck or a caesar wrap from the Mainstay Provisions food tent, you will arrive at the entrance of one of Ballard FC's most popular attractions, the Reuben's Brews Foundation (RBF) Beer Garden. You must be 21+ to enter.
The RBF Beer Garden is positively electrifying with enthusiasm. Fans usually begin to pile in as soon as gates open, enjoying a selection of Reuben's Brews beers, including the team's own "Up The Bridges!" – an American Pale Ale in the Reuben's Brews Foundation Beer Garden. The RBF Beer Garden encourages the neighborhood to come together prior to kickoff to celebrate their shared excitement for the game.
"I think that is the key right there. You say hey as soon as the stadium opens let's meet here for a pint or two to get riled up before the game starts." said Reuben's Brews co-owner Grace Robbings. With a front row seat to the action from the RBF Beer Garden, Robbings further explained "You can see who is actually warming up and who they are not playing tonight. You can talk about it with those around you."
Fans frequently stay inside to watch Ballard FC battle while they sip on some Reuben's Brews in the RBF Beer Garden, which is open for the duration of the game and offers a front-row view of the field.
Jay, a committed Ballard FC fan explained, "It's just more exciting in here because there are more people around you. There is passion, it's not too overly rowdy but it's a little bit more energy than the stands."
Being in the USL2, having a beer garden at your stadium is uncommon, therefore when the chance to do so arose, Reuben's Co-Owner, Adam Robbings seized it and eventually became the club's primary sponsor.
"I grew up with football so having the opportunity to be a part of this became a question of how instead of if, so to be able to support something so local for Ballard and to help give it a kick start as much as we can- we just feel very fortunate to be a part of it" Adam explained.
In addition to enjoying a Reuben's brew, fans can play a variety of games including cornhole in the RBF Beer Garden. As everyone gathers to support Ballard FC, this experience ensures fantastic conversations and experiences with others.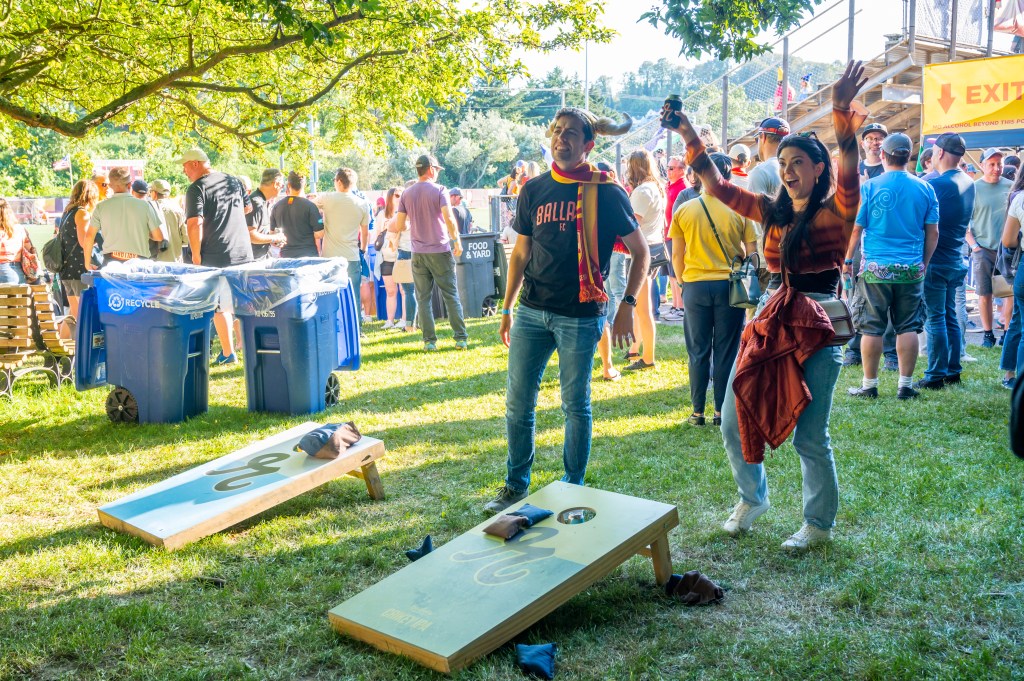 The RBF Beer Garden is just one of the many reasons to enjoy a Ballard FC match day experience. If you head back towards the large sign which greets fans upon entrance you can find the Ballard FC merchandise tent directly behind it. Fans have the opportunity to purchase a multitude of fun gear such as a selection of T-shirts and sweatshirts as well as both the team's home and away jerseys.
Fans with seating tickets can proceed to the bleachers to settle in before kickoff after purchasing their preferred Ballard FC swag. Seated tickets are available to everyone, and are excellent for those bringing young children.
Father and Ballard FC fan Luca spoke of watching the game from the stands, explaining "I think that the nice thing is that it is competitive, it is high quality soccer but it also has that neighborhood feel where you could literally run into your neighbors and that is really special." Joy, Luca's wife, also talked about how wonderful it is for her children to see friends at practically every match.
You can hear the rumbling of the bleachers throughout Interbay as fans fervently support the team, and there is rarely a dry eye in the stadium as fans stay peeled to the field during the entire game.
After the match, the players head out to sign autographs for fans of all ages, making the experience extra special for kids in particular.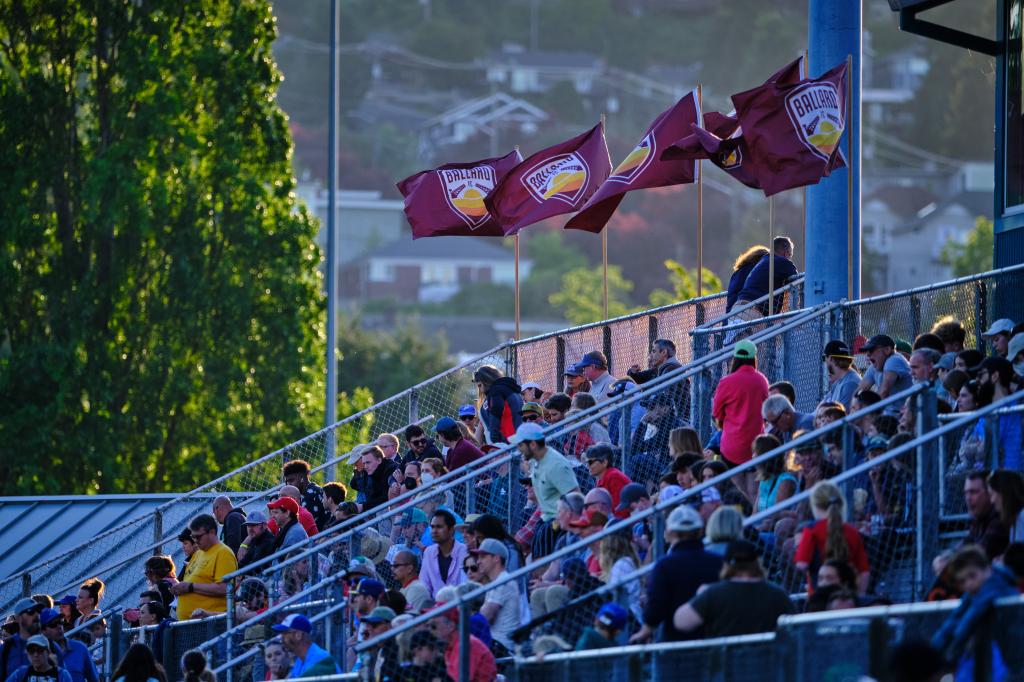 The Bridgekeepers, Ballard FC's most devoted set of fans, are seated in the extreme left section of the stands. Head Bridgekeepers Tyler and Josh made the decision to create their own friend group specifically committed to supporting Ballard FC as soon as word of the club's launch spread. Sam Zisette and Chris Kaimmer, the co-owners of Ballard FC, approached the group soon after rumors of it began to circulate and asked if they would like to become the team's official supporters.
When explaining the match day experience from the Bridgekeeper's section, Tyler described it as "almost like a blackout experience. You just yell as loud as you can, start banging on the fence line and you just get rowdy."
Before gates open, the Bridgekeepers meet at Mulleady's Irish Pub to share a few pints before marching across the Ballard Bridge in full force, chanting their infamous cheer "Up The Bridges" as they approach Interbay. From the start of the season until now, the supporters group has continued to grow.
"It is awesome. We started out a bit calm. At the first match we probably had maybe 10-15 people and today we probably saw 45 maybe 50 fans there, so it is growing very nicely," explained Tyler.
The Bridge Keepers are a committed group of soccer fans, fully supporting each and every player on this team.
"We are out here just for the boys and as much as we want to keep them here, we want to see some of these guys play in bigger leagues and get picked up by bigger clubs, so when they are producing we want to make sure that everybody knows about it," Tyler said.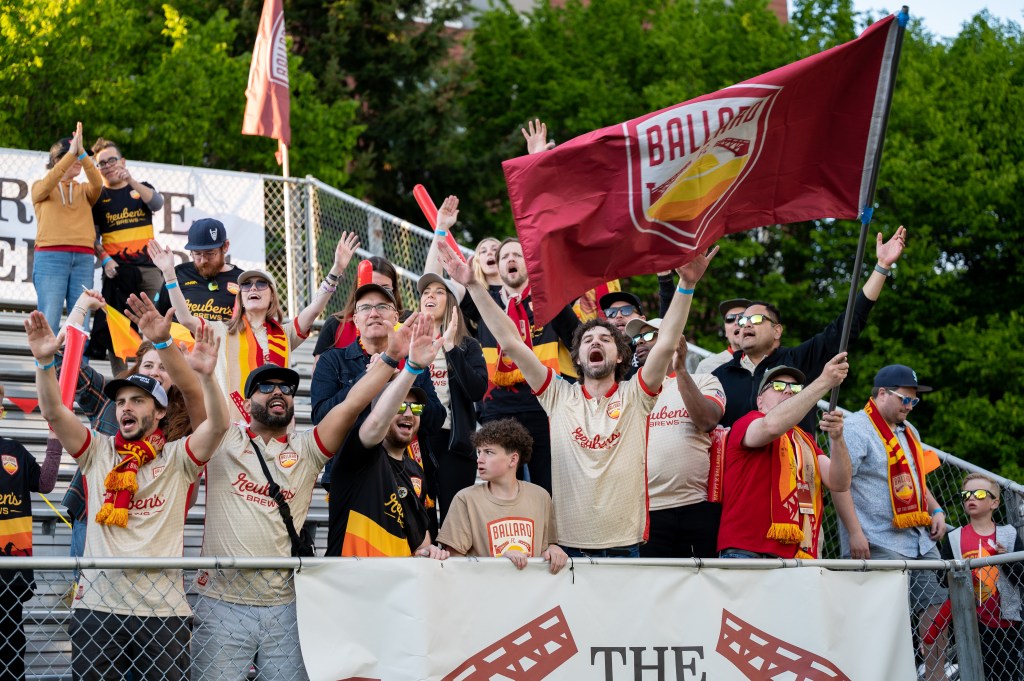 Another element that makes the Ballard FC match day experience so special are the themes that have been incorporated into each match. Each theme has been chosen to celebrate different parts of the amazing Ballard community.
To honor local artist, Ryan Henry Ward, Ballard FC themed their May 30 game against Oly- Town FC 'Henry', even creating kits inspired by one of the artist's famous murals. Another popular theme hosted by Ballard FC was 'Neighbors Helping Neighbors', a friendly match that featured both the Ballard Food Bank and Cultures United FC, who do amazing work to support the community.
The last two matches of the regular season will also be themed. The July 15 match will be 'seafood' themed and the July 17 match will be 'fan appreciation' themed!
Haven't experienced a Ballard FC match day yet? There are still two home games left in the regular season that you can buy Tickets for! Future games only cost $15 for general admission or $12.50 for standing, and tickets can be ordered in advance.
Ballard FC's inaugural season just got longer as they are playoff bound! After a draw this past week between Lane United FC and Oly-Town the team has officially qualified for the USL2 playoffs! More information is to come regarding those match days!
Photos courtesy of Marissa Lordahl