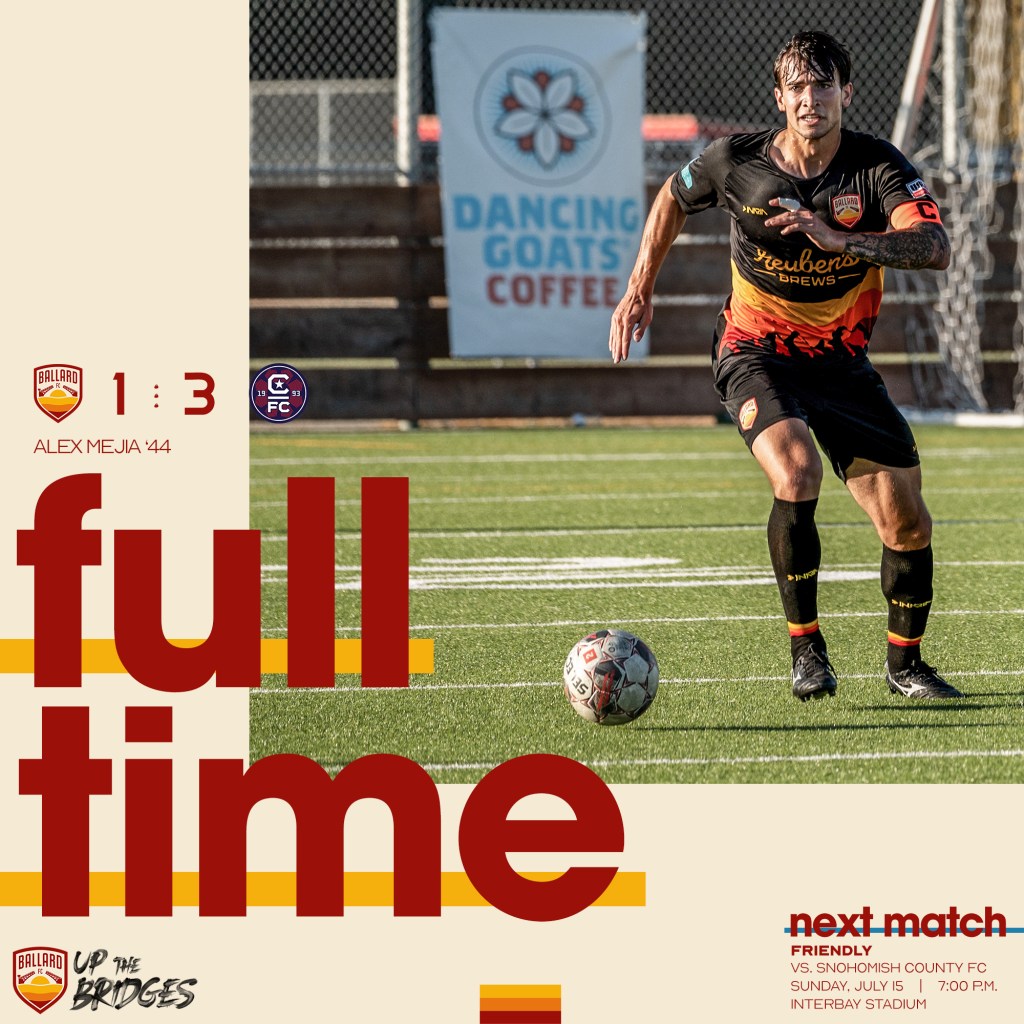 Ballard FC fell to CFC Atletico on Sunday with second half goals from Jeremy Opong and Gabriel Silva helping move CFC Atletico to the top of the division standings.
Ballard FC now sit one point behind in the title race going into the final match day this weekend. CFC play OVF Alliance on Friday July 15th and Ballard FC finish the season against PDX FC on Sunday July 17th. Both teams have already clinched playoffs and this weekend will decide the division title.
CFC started the match strong as Jose Sosa opened the scoring in the 11th minute with a 20 yard shot that found the bottom right corner.
After their opener, CFC kept the foot on the gas pedal and looked for a second. Akili Kasim had to make two big diving stops to keep Ballard in the match. The first came in the 25th minute as Kasim dove to his left to stop a Gabriel Silva header.
Ten minutes later, Kasim made another diving stop, this time pushing the ball over the bar for a corner.
Ballard FC finished the half well, and were the better team for the final 10 minutes. Alex Mejia capitalized on this period of dominance with a goal right before halftime in the 43rd minute. Charlie Gaffney took the ball out of the air with a cushioned touch and led Mejia in on goal to finish.
The equalizer marks Mejia's seventh goal this season, extending his lead at the top of the USL2 Northwest Division scoring chart.
The teams went into the break with the score level at 1-1 and with it all to play for in the final 45 minutes.
Ballard FC continued their momentum from the end of the first half and were the better for the first five minutes of the second. But everything changed in the 52nd minute as Jeremy Opong cut inside to score a goal against the run of play and put CFC back in front.
From there CFC settled in, making a few defensive substitutions and taking control of the rest of the match.
CFC put the match to bed in the 74th minute as Gabriel Silva dispatched a penalty to give the hosts a two goal advantage.
Ballard kept fighting, hitting the post and forcing a diving save from McCallion in the final ten minutes but could not find a goal and CFC finished as 3-1 winners.
Ballard FC returns to Interbay Stadium on Friday July 15th for a friendly with Snohomish County FC, get your tickets today! This match is Seafood themed and kicks off Ballard SeafoodFest. Then on Sunday July 17th, Ballard will play their USL2 regular season finale at Interbay against PDX FC, tickets are sold out but you can watch the match live at Reuben's Brews or on goballardfc.com.
Photos courtesy of Marissa Lordahl