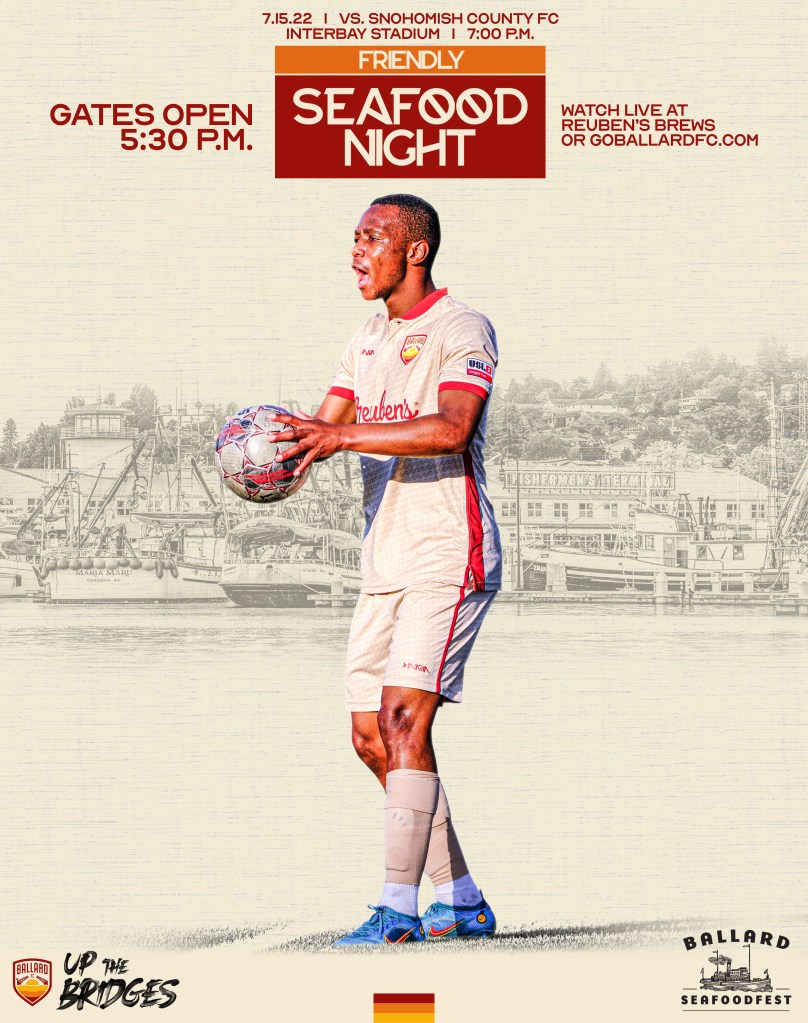 Ballard FC will play their final regular season matches at Interbay Stadium this weekend before entering the USL2 playoffs on July 22. These matches will represent Ballard FC's last chance to earn points in the regular season. Ballard FC is currently in second place in the USL2 Northwest Division standings as a result of the team's 3-1 loss to Capital FC on the road this past Sunday. This Friday, July 15, Ballard FC will host the Snohomish County FC Steelheads in a Friendly match to celebrate the Ballard SeafoodFest. While this match does not count towards USL2 standings, it is a great match for the team to get prepared for a playoff run and compete against a local opponent! Kickoff is at 7:00pm.
The Snohomish County FC Steelheads are a men's adult elite semi-pro soccer club representing Snohomish County on the field and in the neighborhood. The club was founded in 2017 and competes in the Western Indoor Soccer League and Cascadia Premier League.
As part of the festivities leading up to the Ballard SeafoodFest, Ballard FC has themed Friday's match 'Seafood' Night.
With the Ballard SeafoodFest, a Ballard industrial and fishing leaders-founded event that has been a community favorite for more than 50 years, the two teams are collaborating on this home friendly game. Fans can find food trucks serving seafood, unique maritime decorations, unique halftime activities, 2022 SeafoodFest prizes, and other promotions at this very special Ballard FC match! Come watch Ballard FC play on Friday, July 15th, and then enjoy the entire weekend of the 2022 SeafoodFest in downtown Ballard, which features live music, kid-friendly activities, regional eateries and exhibitors, and the best craft beer display of any Seattle street festival.
Ticketholders should arrive early. Doors open at 5:30pm for the 7:00pm kickoff. To further celebrate the Ballard Seafood Fest, Kottu Sri Lankan curry cart will be serving several items including seafood curry with crab, calamari and shrimp. Also, Big Boys Filipino Food Truck will be serving delicious seafood-inspired Filipino food. Additionally, there will be an opportunity to receive limited Edition SeafoodFest Koozies for the first 500 fans in the door, with 50 lucky fans receiving drink tokens for the SeafoodFest beer garden!
The Ballard FC halftime show always provide fantastic entertainment, but this one is a must see as it will be SeafoodFest themed, forcing participants to use seafood-themed items to compete in the halftime performance.
Fans will also have the opportunity to enjoy a selection of Reuben's Brews beers, including the team's own Up The Bridges! American Pale Ale in the Reuben's Brews Foundation Beer Garden. Fans can also participate in a fun game of cornhole while sipping an ice cold drink at the RBF Beer Garden. Additionally, Ballard FC sponsor, Salmon Bay PT, will be providing a 'Kid Zone' in the north west corner of the stadium.
If you are unable to make it to Interbay, Friday's match will be streamed live at goballardfc.com. You can also join fans and supporters at Reuben's Brews Taproom to watch the match on the big screen. The play-by-play broadcast will be called by Andrew and Jim Harvey and will be available starting at 6:45pm on the team homepage.
There are still tickets available for Friday's 'Seafood' themed match!
For more information about match day, including transportation, Covid-19, fan code of conduct, prohibited items, and more click HERE.