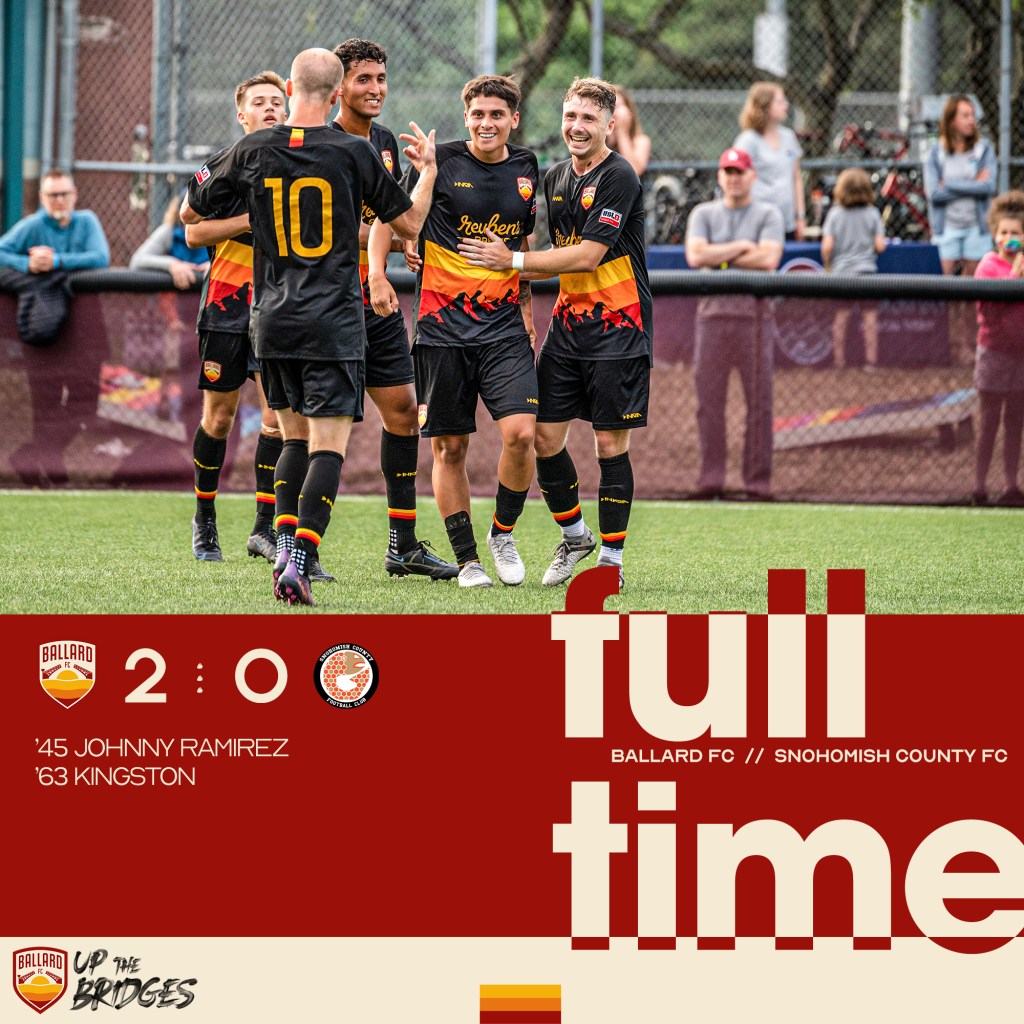 A Johnny Ramirez goal right before halftime and a second half penalty from Peter Kingston brought Ballard FC back into the win column as they head into the business end of the season.
Friday's friendly match at Interbay kicked off the Ballard SeaFoodfest the right way, with a win and great seafood options for all the fans to enjoy.
Friday's match was even more Ballard focused than usual as two Ballard High School graduates, Cale Spence and Cole Weaver, made the starting eleven.
The match itself got off to a quick start with Ballard FC causing problems right away. A Johnny Ramirez cross found Alex Mejia's head in the 6th minute but the Snohomish goalkeeper Dorian Lair made a great diving stop to his left to deny the goal.
The first half continued in this fashion, with Ballard FC dominating possession and having the majority of the chances but Lair and the Snohomish defense stood tall. The best example came in the 33rd minute as there was a ton of goalmouth action but ultimately no goal for Ballard.
Ballard FC would eventually break the deadline however right before halftime as Johnny Ramirez's shot found the bottom left corner from 25 yards out.
After Ramirez's opener, Ballard went into the break with a one goal advantage.
The second half was much of the same, with Ballard dominating possession but struggling to break down a staunch Snohomish backline.
However in the 62nd minute, Ballard FC would finally get their second. A bit of fancy footwork from Kevin Galiano led to him being brought down in the 18 yard box. Peter Kingston then stepped up and cooly dispatched the penalty for his first goal of the season.
The match continued in the same fashion, but there would be no more scoring. Ballard FC created one more big chance as Kevin Galiano and Demitrius Kigeya forced a double save out of Snohomish's Luke Brezak in the 86th minute.
The match finished with Ballard FC as 2-0 winners. After losing to CFC Atletico on Sunday, Friday's result was the perfect response to get back to winning ways before the regular season finale on Sunday and playoffs the following weekend.
Ballard FC returns to Interbay stadium tomorrow July 17th for the regular season finale against PDX FC. Sunday's match theme will be fan appreciation as we want to thank the Bridge keepers and all of our fans for making this inaugural season so special. As a thank you to the fans, all merchandise will be 20% off at Sunday's match
Ballard FC are guaranteed to finish in second place in the Northwest Division with CFC Atletico winning on Friday night. Sunday's match is still important for playoffs for points per game and crucial as a final tune-up before the postseason. Tickets are sold out, but you can watch the game live at Reuben's Brews or stream at goballardfc.com.
Photos courtesy of Blake Dahlin, Lou Cuevas and Marissa Lordahl