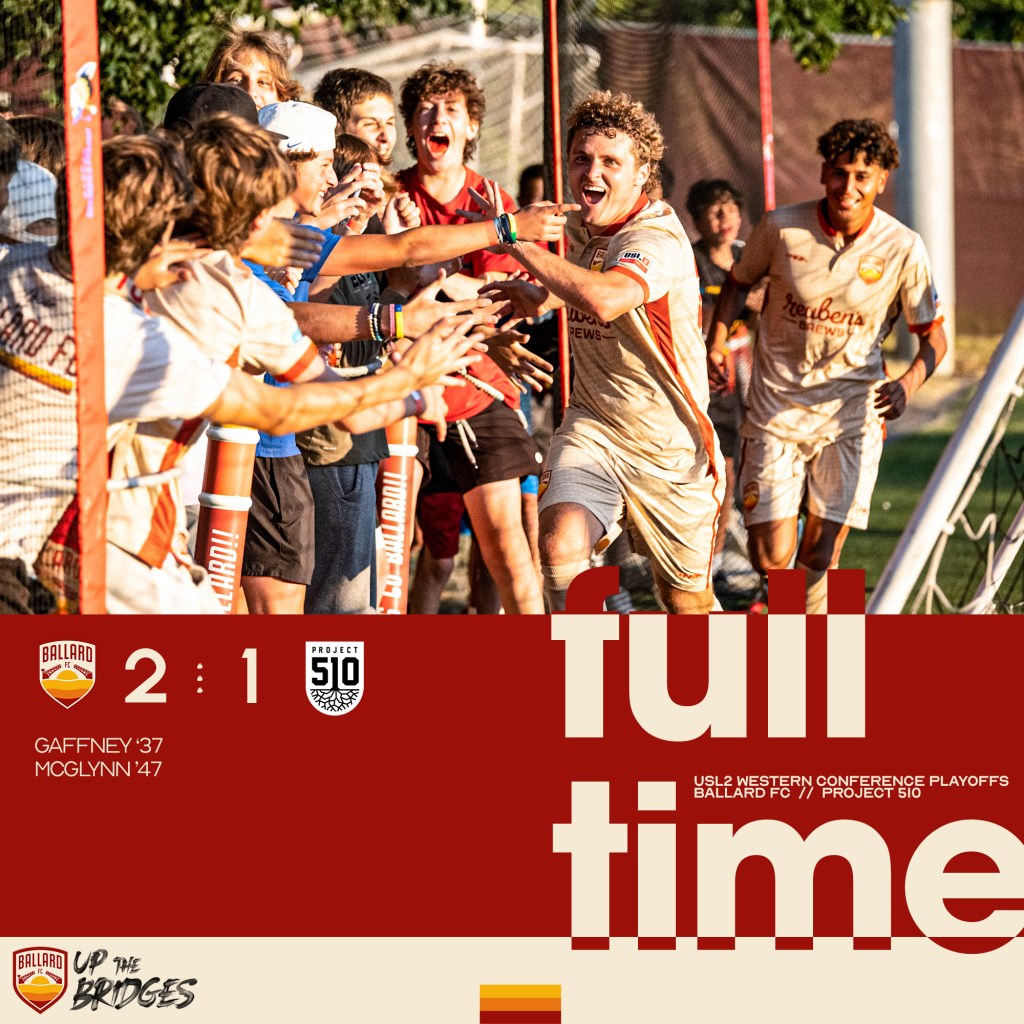 A goal from Charlie Gaffney just before halftime and an early goal from Man of the Match Declan McGlynn to kick off the second half gave Ballard FC their first-ever playoff victory.
This Friday, Ballard FC hosted Project 510 from Oakland in front of a sold out Interbay crowd to commence the opening round of the USL2 playoffs.
The match started tighty without many chances for either side throughout a majority of the first half.
Project 510 came close to scoring in the 29th minute, but Akili Kasim made a crucial save to keep the score tied at 0-0.
In the 37th minute, Charlie Gafney opened the scoring bringing the ball down on the break and slotting it right past the Project 510 keeper.
In the 40th minute, Project 510 came close to tying the match, but Ballard's Akili Kasim made another tremendous save to maintain their 1-0 lead, sending the team into halftime on top.
The second half began with Ballard FC dominating the ball right from the start. Only four minutes into the half Declan McGlynn scored Ballard's second in the 49' after a beautiful assist from Peter Kingston.
Ballard's 2-0 shutout was broken in the 78th minute when Lorenzo Hernandez scored for Project 510, making the score 2-1 with only 10 minutes remaining to play.
Project 510 created some serious opportunities to even the score late in the match, but defender Christian Engmann made a sliding stop to prevent another Project 510 goal in the 84th minute and Akili Kasim made another huge save to keep Ballard in front.

The match was not over when the clock struck 90 as the referees added four minutes of extra time. Both teams fought hard, but Ballard FC's defense held firm to secure a 2-1 victory and a playoff win against Project 510. If you were unable to catch today's match you can watch it HERE!
Ballard FC will return to Interbay Stadium on Sunday July 24th at 2:00 PM to face off against San Francisco Glens FC in the Western Conference semifinals. Get your tickets today! Tickets are likely going to sell out so don't wait!
Highlights: