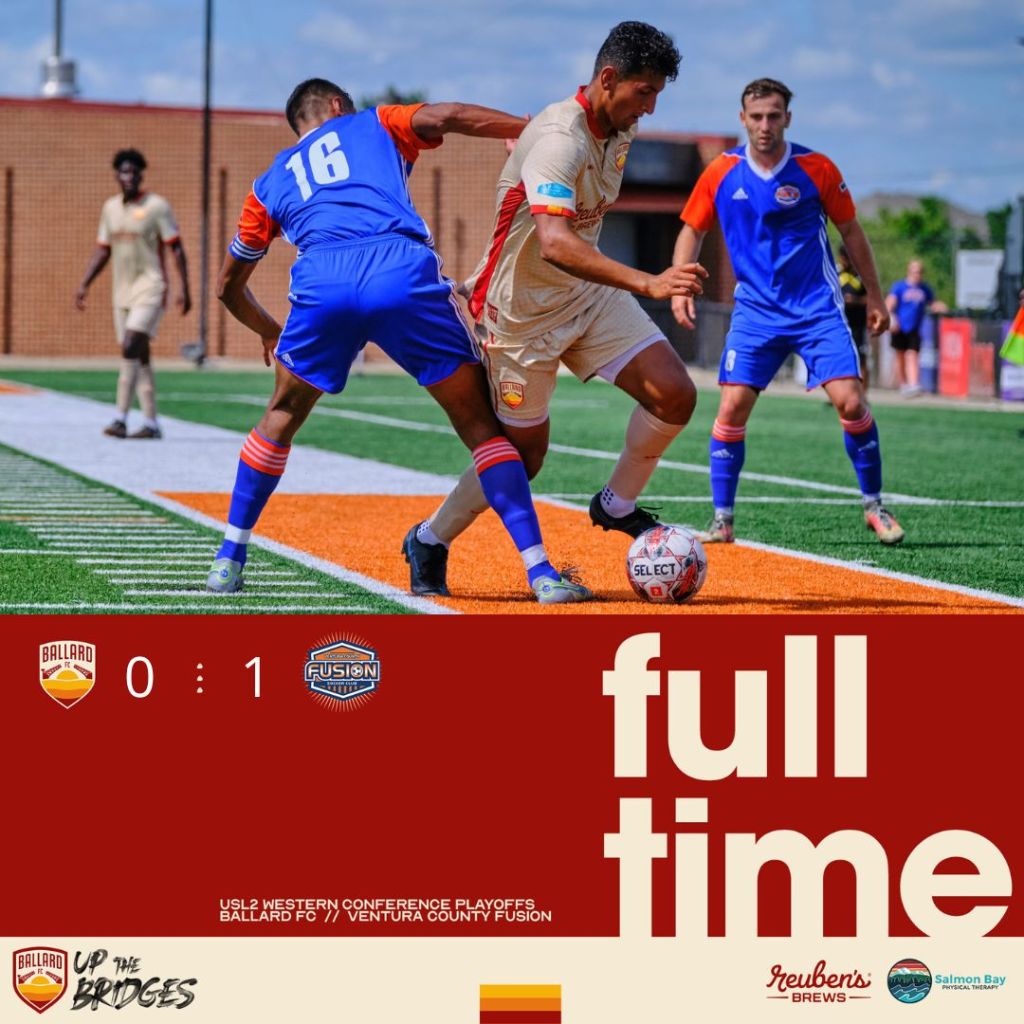 On Friday, July 29, Ballard FC lost to Ventura County Fusion in the USL2 Western Conference Championships in Des Moines, Iowa, after a first-half penalty kick.
Ballard FC began the match well, generating chances early on. VCF came extremely close to scoring, but Ballard's goalkeeper Akili Kasim made a tremendous save in the 18th minute.
Kasim had another big stop in the 26', but Ventura forward Logan Farrington was brought down in the box by Ballard's Christian Engmann after getting behind the defender in the 29' putting VFC up 1-0.
Ballard began the match with more possession and a desire to exert their influence, but Ventura's first-half goal caused a momentum shift.
Despite Ventura converting their penalty in the 29', Ballard's defense remained composed throughout the entire match, shutting down any opportunities to score.
Lesia Thetsane, who was pushed to midfield to cover for the absence of Bailey Letherman after a red card in the previous match, did a great job breaking up plays and providing cover for his defensive counterparts who did well despite the absence of the Lesotho international.
Ballard's Declan McGlynn came very close in the 55' after linking up with Alex Mejia, however Ventura goalkeeper Tetsuya Kadono was able to make the stop, maintaining a 1-0 lead.
Ventura had another opportunity to score with a free kick in the 62nd minute, but Kasim made another diving save to prevent VCF from extending its lead over Ballard.
Four additional minutes were added to the 90-minute play clock, giving Ballard possibilities to tie the score and extend the championships into overtime. Despite Ballard's valiant efforts and near-goals, Ventura maintained a 1-0 lead and advanced to the National Semifinals.
On Sunday, July 31st, VCF will face the winner of the Central Conference Finals between the Des Moines Menace and the Flint City Bucks in the National Semifinals.
You can re-watch the full match HERE.
Ballard FC finished the inaugural season in the final eight clubs out over over 110 clubs in the USL2. The club will release more information on 2023 tickets, merchandise, youth and adult soccer programs, and much more soon!