Ballard FC has announced that Jason Farrell will be returning as head coach of the club on a multi-year extension.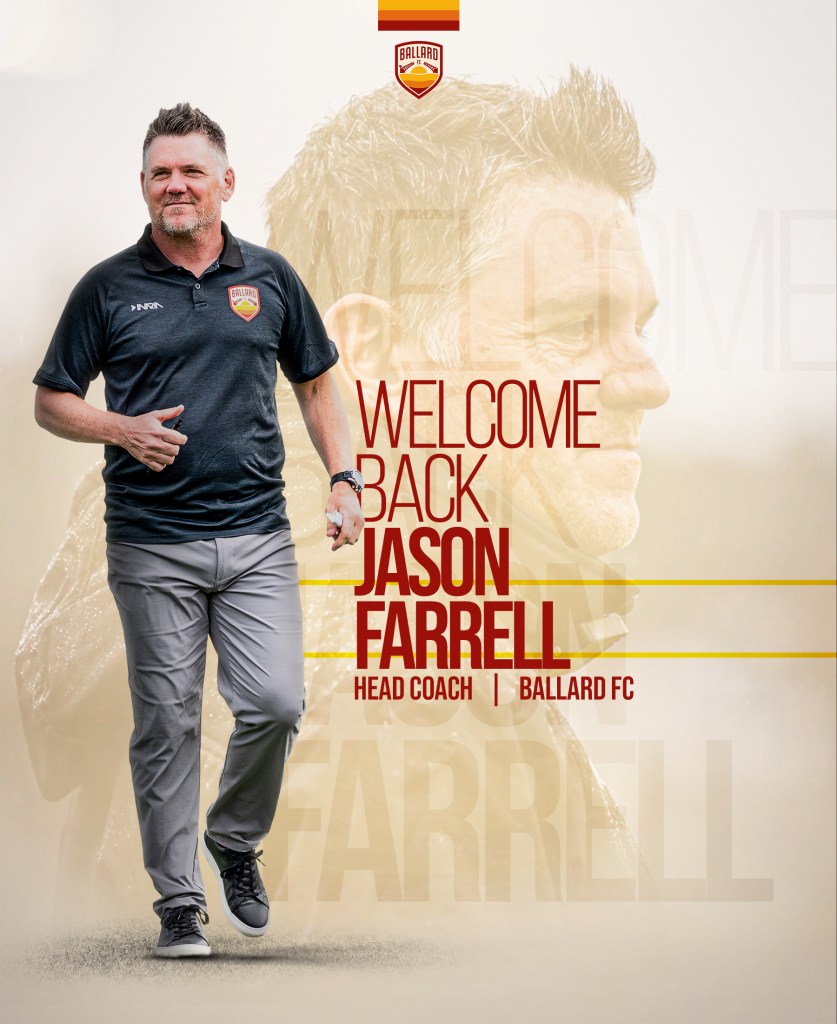 Farrell led the club to an 8-2-2 regular season record and a playoff run to the USL Western Conference Finals in the inaugural season and will look to build on that success over the coming years. As a former professional player, experienced coach, and Ballard resident himself, the club is thrilled to have Jason continue to lead the team on and off the field.
"To return as head coach of Ballard FC is quite an honor.  I appreciate the trust and responsibility that the ownership group has placed in me and do not take it lightly.  Last season was quite successful and yet, on the field, we have our sights set much higher and are already hard at work making sure our community has another remarkable summer to look forward to."
– Jason Farrell, Ballard FC Head Coach
Farrell, a graduate of Shorecrest High School, continues at the helm as the club prepares for its second season in 2022. He played soccer at Skagit Valley College, University of Washington, and Seattle Pacific University before joining the Seattle Sounders in 1994. Farrell played indoor soccer with the Kansas City Attack and was selected by the Columbus Crew in the 1997 MLS Supplemental Draft. He retired as a Sounder in 2004. 
His coaching career began with the Sounders, and after a year as an assistant with the club, he left to become an assistant at Seattle University. Farrell was Technical Director of Seattle United and then the Director of Soccer Operations at Sound FC. 
"We are all excited to have head coach, Jason Farrell, continue to lead this team in 2023. Our inaugural season was a huge success on the field and it is a result of the culture built by the coaches. I'm excited to see the team continue that success with Jason at the helm." – Lamar Neagle, Ballard FC Co-Founder
"Jason did such a tremendous job last year recruiting, coaching, and ultimately building a positive winning culture amongst the players and coaching staff. He has embodied our vision of building a community-centered club and has gone above and beyond to provide Ballard with not only a fantastic soccer team but a group of young men committed to the community. It's so exciting to have Jason with the club long-term to continue to build on that success." – Sam Zisette, Ballard FC Co-Founder and General Manager
With tryouts coming up on January 14th and many players already committed for the 2023 season, the upcoming season is already shaping up to be an exciting one. To be the first to know when the schedule is released and tickets are available, sign up for our email newsletter below and follow on social media @goballardfc.