This article was written by Greg Van Belle. Greg sat down with Head Coach Jason Farrell to take a deep dive into the 2023 Ballard FC roster.
Preseason training has begun at Interbay for Ballard FC's second season. Coming off a remarkable inaugural year, the players and staff are looking forward to a great summer of soccer with a roster full of returning players and new faces.
From the first open tryouts back in March to the final roster addition of Danny Robles, the coaching staff have been busy putting together what they think is a squad that will once again drive deep into the playoffs and will compete for a championship.
While the recent announcement of Robles' arrival has dominated the roster headlines, this team is deep and talented, and by all appearances should live up to the hype.
I had the chance to talk with head coach Jason Farrell this week about his early impressions of this year's team, who to watch, and what to look forward to as Ballard FC get ready for their season opener on May 21st away at Oly Town FC.
Returning Players
Roster stability is a difficult task at the USL2 level. Players are early in their playing careers, graduating college, and moving around quite a bit, which makes the number of high-quality returning players remarkable.
Starting at the back, the stout center back combo of Leo Burney and Christian Engmann is returning this year, and they are joined by Zane Baumgardt, who had a phenomenal college season as a center back at CSU Dominguez Hills, where he was team captain in 2022. Farrell made a point of also emphasizing the return of Lesia Thetsane. "Lesia was one of our team captains last season and has played at the highest international level…we were surprised that he fell to us again but we are thrilled to have him."
At midfield, Farrell is excited about the veteran presence of Bailey Letherman, the Alaskan native who played his senior season in 2022 at Seattle University.
Defensive midfielder Taketo Onodera should be much more comfortable in the center of the park after a good first season at Seattle University, and Cam Martin, Joe Dale, and Johnny Ramirez are all returning players who will compete for minutes and starts as the season moves on. 
Up front, Charlie Gaffney, Alex Mejia, Kevin Galiano were all hugely impactful last season and should pick up right where they left off. Gaffney had five assists last season, including two that were crucial in the USL2 Playoffs. Seattle Pacific product Mejia was the NW division's top goal scorer in 2022, and Bellingham native Galiano returns with the promise of more stunning strikes like his 86th minute rocket against Lane United in Ballard's inaugural match last year.
Peter Kingston, a recent transfer to the University of Washington from Seattle University, will likely be the point man in the Ballard attack once again.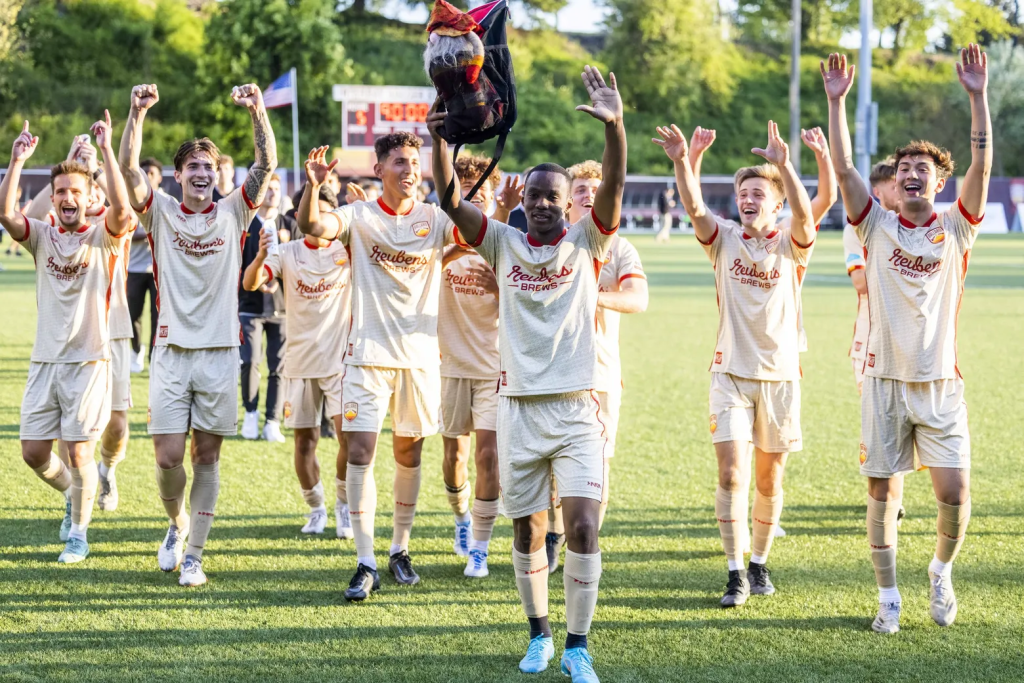 New Players to Watch
Replacing standout defender Nik Reierson is going to be a tough task, but Ballard have brought in defender Khai Brisco from the University of Washington as well as Luke Thomas from Duke and Ben Do from Penn. Seattle Pacific standout Demien Alvarez also comes in to add even more talent and depth to the defense, a positional group that was strong last year but has a chance to excel this year with the added depth.
Midfielder Ima Rosales, who has been excellent at the University of Washington, including a three-assist effort last season against Gonzaga, is an exciting addition. As is newcomer Cameron Yriondo, a Skyline High School product finishing his freshman year at Seattle Pacific where made 14 starts and logged 1,000 minutes on the way to scoring three goals.
Farrell says he is also "very curious to see Innocent Jibril Rodet and Hyungjoon Lee and how their obvious wealth of talent translates to Ballard FC and the league."
And of course, Danny Robles comes in with nearly 100 professional appearances to his name with the Tacoma Defiance and Hailstorm FC. At just 21 years of age, Robles has logged a tremendous amount of experience that will make him a natural leader on and off the pitch for Ballard.
Growth, Change, and Excitement
I asked coach Farrell the rather unfair question of what position group he was most excited to see as the season unfolds, and he had this to say:
"One of the position groups I am most interested in seeing this summer is the guys we brought in up front. We have added a lot of talent and production to an already strong group. At center forward, we have Stas Korzeniowski, an All-American from Penn. We have also added Jeramy Opong from Seattle University who was a thorn in our side last year while he was playing for Capital FC."
It's easy to see why he is excited about the potential at the top. There are a lot of goals in this group, and the staff will have the best challenge coaches can ask for: getting minutes for every deserving player.
Farrell also highlighted the speed and talent on the wings.
"Kojo Dadzie and Peter Yaro will come in and immediately cause problems for opposing defenses. Charlie Holmes, a local kid that plays at Bucknell, rounds out a very talented group of attackers."
The biggest turnover on the roster is in goal, with Lars Helleran being the only returning goalkeeper who the coaches were not sure would be back for a second season. Joining the keeper's union are Spokane product Jadon Bowton, coming off an excellent season at the University of Washington; Conrad Lee from Yale, and Ballard High School graduate Pierluca Carnovale. All are excellent keepers who will challenge one another for minutes as the season progresses.
And while you never know what you will get until the season begins, Coach Farrell has his eyes on some exciting players he thinks will make a real difference and entertain the fans straight away.
"Hyungjoon Lee is a very strong and composed defensive midfielder. Innocent Jibril Rodet has the ability to be a dominant part of our attack. Peter Kingston and Stas up front will hook up a lot for scoring opportunities! Danny Robles, a player with almost 100 professional games under his belt, could be a difference-maker in the midfield."
Local, National, and International Connections
As the players descend on Interbay for the start of training, it is amazing to see the diversity in their backgrounds and playing history. The roster sports players with roots in Mexico, South Korea, Japan, Ghana, France, Lesotho, and Canada. There are numerous players who are as local as you can get, having played while at Ballard High School. Seattle University, Seattle Pacific, and the University of Washington continue to be player pipelines for the club as well. This is an exciting mix of local, national, and international players that will add flavor and showcase different styles of play on the field.
There are Pac 12 and Ivy League Champions onboard. There are First team all-Americans. There are academic all-conference players.
This should prove to be another exciting and competitive year in Interbay with the talent the staff has assembled.