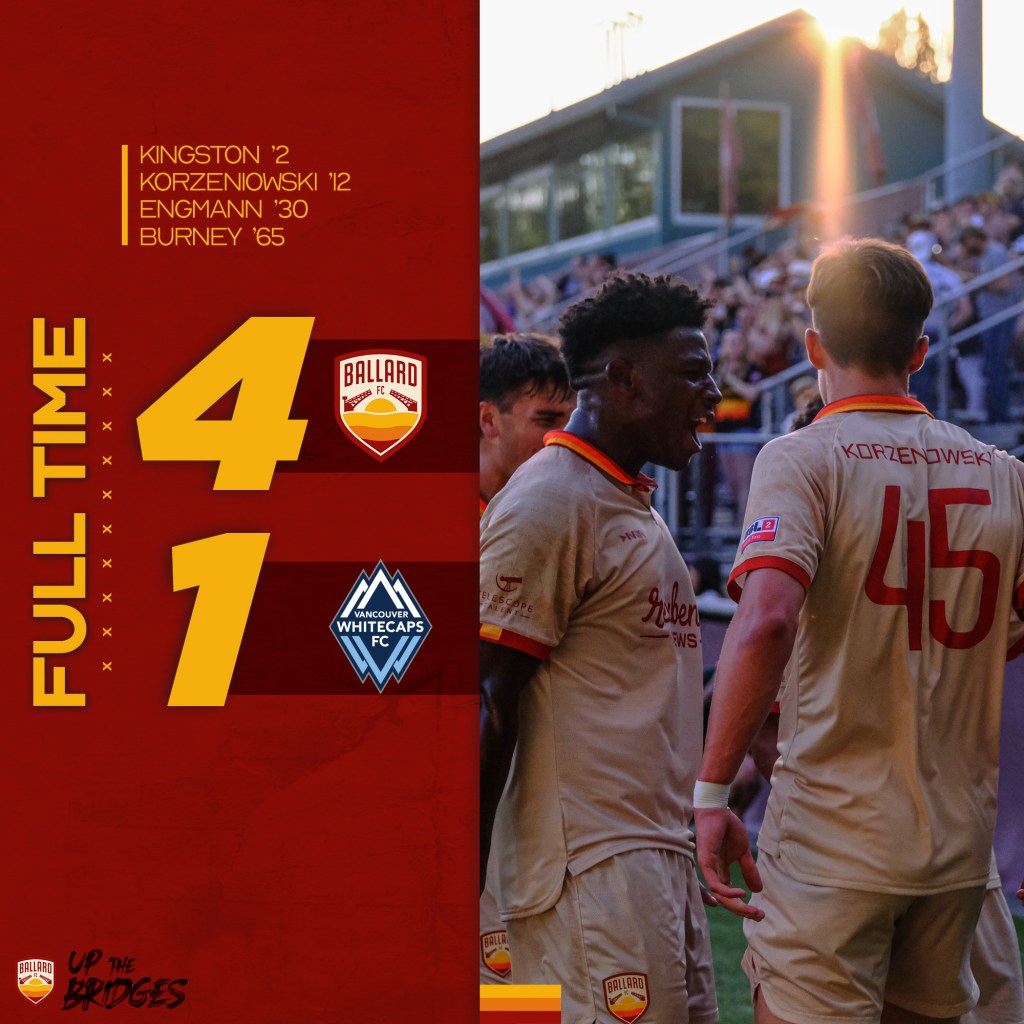 Four goals from four headers helped Ballard FC welcome fans back to Interbay Stadium and finished up the preseason with a 4-1 victory over Vancouver Whitecaps FC U19. For the first time since last July, over 1,200 Ballard FC fans were in the stadium and the team finished right where they left off: scoring goals and winning matches.
Ballard FC got off to a lightning-fast start as returning right winger Charlie Gaffney beat his man to the end line and crossed to the back post for another returning winger, Peter Kingston, to head home in the second minute.
Only ten minutes later, Ballard FC would score again. This time it was 2022 NCAA Division 1 All-American, Stas Korzeniowski, latching onto a Kingston corner kick placing his header into the bottom right corner past the outstretched arms of the Vancouver goalkeeper.
Ballard FC would get the third goal of the half right at the half-hour mark. Kingston got his second assist of the night with another good delivery from a corner, and this time it was center-back Christian Engmann to finish it. Engmann was an elite aerial presence at the end of the last season, scoring some big goals down the stretch, and it looks like he will be a force again on set pieces.
The half would finish 3-0. Last night was perfect weather at the stadium and at halftime and throughout the match, fans could enjoy the Reuben's Brews from the Ballard FC Foundation Beer Garden as well as our four different food options.
After both teams made changes, the second half was more quiet than the first. Vancouver would get a goal back in the 61st minute as Sydney Wathuta found the top corner from the edge of the box to make it 3-1.
Ballard FC would respond quickly. After subbing into the match at halftime, Ben Do sent in a peach of a cross from the right side which was then finished with a stooping header from Leo Burney. After starting almost every match last season, Burney wasted no time getting his first-ever Ballard FC goal this year.
The first match at Pagliacci Pitch would finish 4-1 with the rest of it featuring many substitutions as head coach Jason Farrell made sure everyone got some good minutes to prepare for the league opener this Sunday.
2022 Western Conference Finalists, Ballard FC, start their 2023 USL2 season on Sunday, May 21st against Oly Town FC.
Sunday's match at South Sound Stadium is at 3:00 PM and will be live-streamed at goballardfc.com and in the Reuben's Brews Taproom. Sunday will be the first of three matches against Oly Town this season as Interbay Stadium will host the Artesians twice in June. After falling just short of the Northwest Division Title last season, Ballard FC will aim to get the USL2 season off to a good start with all three points.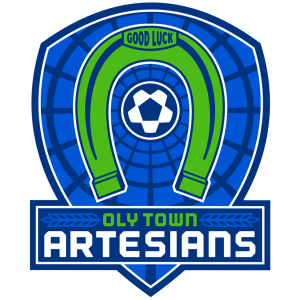 Getting the win in Olympia will not be easy as both away matches were very tight last season with a 1-1 draw and a narrow 1-0 Ballard victory respectively. Oly Town FC started their USL2 season well with a 3-0 win against PDX FC last Sunday to start the season atop the Northwest Division standings. Similarly to Ballard FC, Oly Town FC has players from local universities such as the University of Washington, Seattle University, and Seattle Pacific University. University of Washington midfielder Cooper Brunell got a brace against PDX FC while Seattle University goalkeeper Charlie Lanphier kept a clean sheet. Another player to watch out for will be forward Desmond Wade. Wade has professional experience playing for Verdes FC of the Belizean Premier League and earning an appearance for the Belize national team. All signs point to Sunday's match being intensely competitive as both teams will have high expectations this season given their respective rosters. We hope to see you all either in Olympia or the Reuben's Brews Taproom cheering on the team on!
After Sunday's match, Ballard FC will return home for their league home opener on Friday, May 26th at 7:00 PM against Lane United FC. Gates will open at 5:30 PM and fans will be able to buy merchandise, enjoy the Reuben's Brews Beer Garden, and grab a bite to eat before the match kicks off. Tickets are still available, make sure to get yours! You can also purchase your tickets to future home matches as well.
Photos courtesy of Blake Dahlin