Get ready for a fun summer at Interbay Stadium! From music to Nordic heritage, we've got themes for each match to celebrate different parts of our amazing Ballard community. Get your tickets now before it's too late!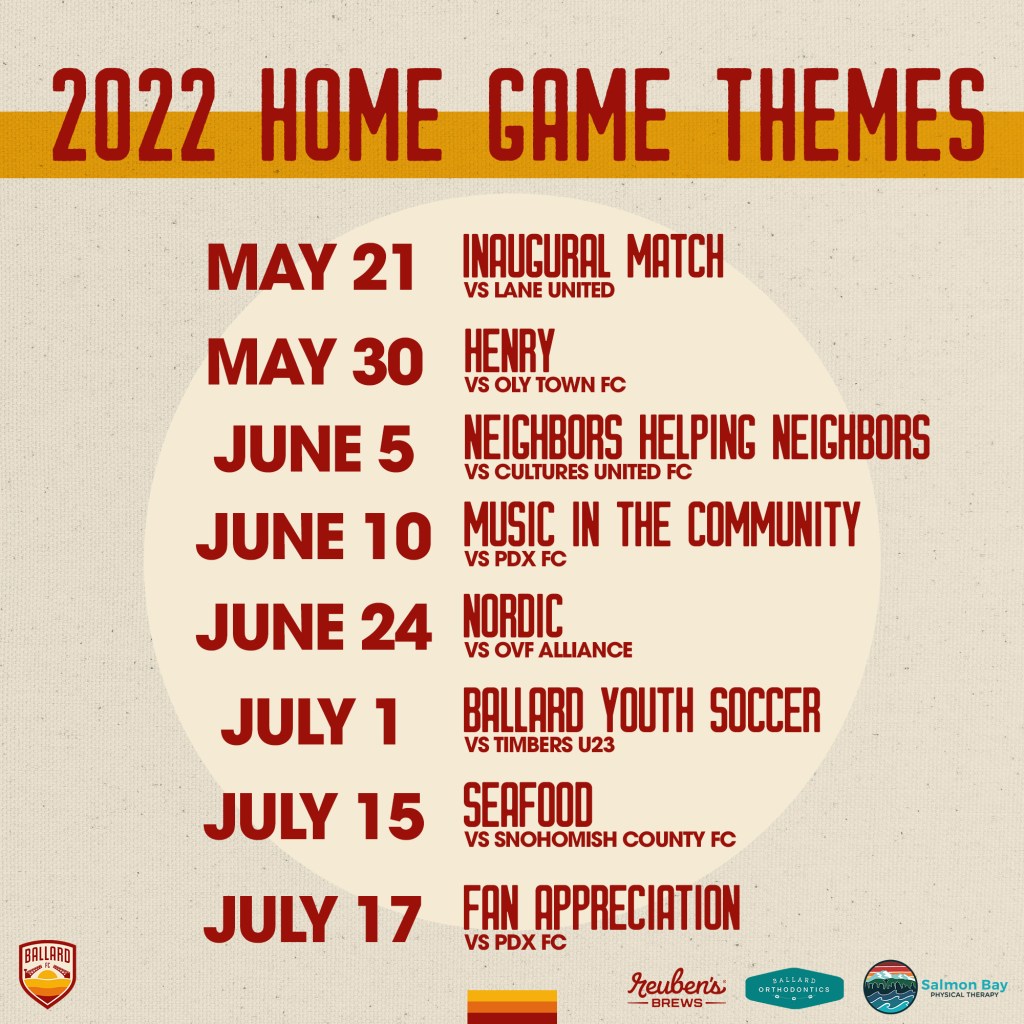 May 21 vs Lane United: Inaugural Match
Our first match in Ballard FC history, let's kick off our first ever season with a celebration to remember! Tickets are sold out, but you can watch the match live on our website or at Reuben's Brews Taproom!
May 30 vs Oly Town FC: Henry
Our second match against Oly Town FC will feature the artist Henry who will be at Interbay Stadium to meet fans and speak about the power and importance of art in our community. There will also be an art station where kids can draw! Additionally, this game is on Memorial Day and we will be honoring this with the Coast Guard who will perform a Color Guard and the National Anthem.
June 5 vs Cultures United FC: Neighbors Helping Neighbors
This friendly match will feature both the Ballard Food Bank and Cultures United FC, our friends and partners who are doing amazing work to support the community. There will be a van onsite that fans will be encouraged to fill with food donations and we will have many other activations with both BFB and CUFC to support these two amazing community organizations.
June 10 vs PDX FC: Music in the Community
This match against PDX FC will feature 45th Street Brass, a local brass band who will be performing in the stadium prior to the match. The Ballard High School drumline and choir will also be onsite for a halftime performance and national anthem!
June 24 vs OVF Alliance: Nordic
We will celebrate Ballard's Nordic heritage in this match by featuring the National Nordic Museum, Skal Beer Hall, and other groups to highlight this key part of Ballard's history.
July 1 vs Timbers U23: Ballard Youth Soccer
Ballard Youth Soccer has served our community since the 1960s and we will celebrate all that they do to inspire the kids in our community through soccer.
July 15 vs Snohomish County FC: Seafood
This friendly match against the SCFC "Steelheads" falls on the weekend of Ballard Seafood Fest! We will have Seafood options on site and other fun activations to celebrate Ballard's maritime history.
July 17 vs PDX FC: Fan Appreciation
Our final *regular season* match of the year will feature you, the fans. Ballard FC is a community organization built by and for the community and it wouldn't be possible without your support and passion. Stay tuned for more details as we prepare to honor YOU!