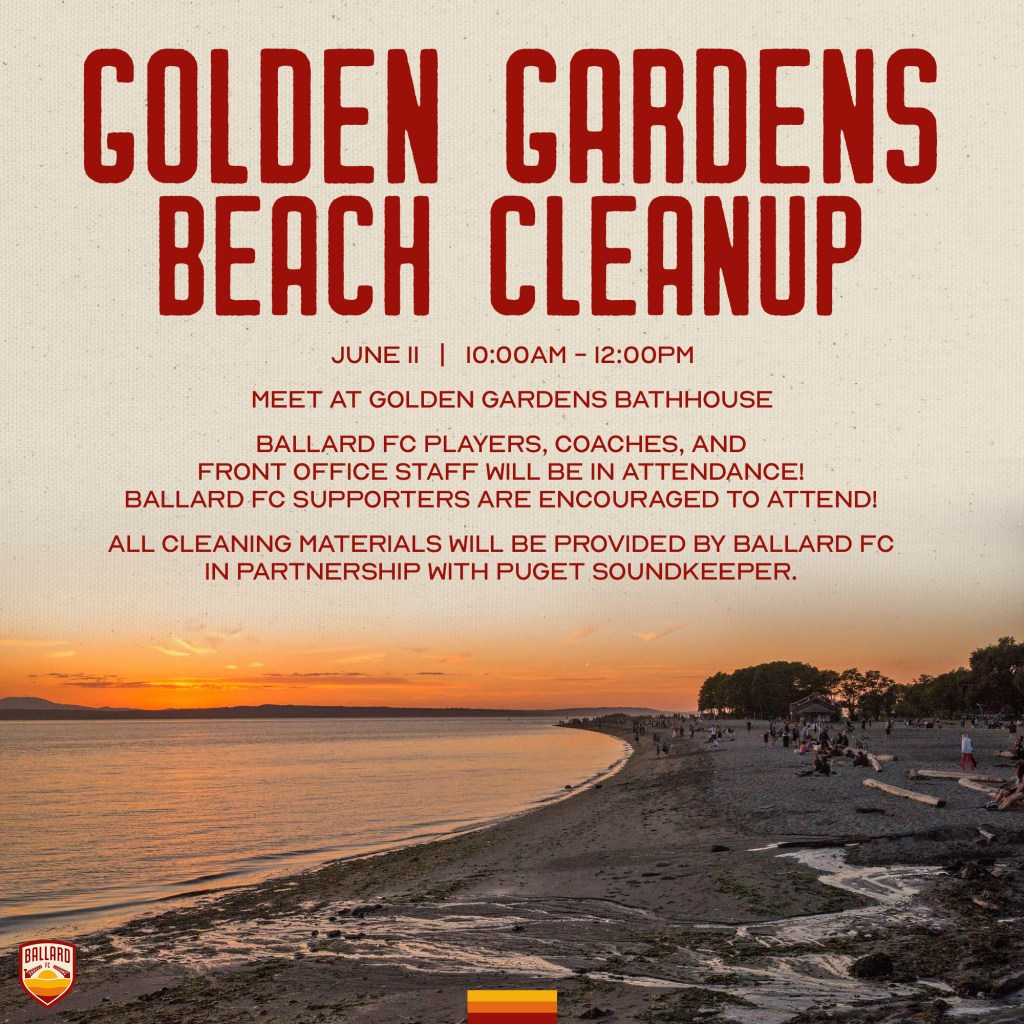 Ballard FC is excited to announce that we are hosting a beach cleanup at Golden Gardens this Saturday, June 11th.
As we celebrate World Oceans Day later this week on June 8th, Ballard FC is committed to reducing the impact of toxic waste on marine wildlife.
To do so, we are partnering with Puget Soundkeeper, a nonprofit organization dedicated to keeping our local waters clean. To get involved and learn more about Puget Soundkeeper, head over to their website.
Ballard FC players and staff will participate and we invite you to join us! Our goal is to rid the beach of any debris that does not naturally break down and could be harmful to the environment, such as beer cans and plastic bottles. Up to 90% of marine debris is plastic and will be the main focus of Saturday's cleanup.
Plastic litter eventually breaks down into smaller micro plastics. These micro plastics are then ingested by marine wildlife, raising the toxicity levels in the animal. The high levels of toxicity then spread throughout the environment. This is not only unsafe for the marine wildlife, but it also makes it unsafe for humans who fish in the area.
Seattle is a beautiful city, and its waters are a big reason why. To keep our waters clean and our city beautiful, we need to reduce harmful plastic waste at our beaches. Please join us from 10am – 12pm this Saturday, June 11th as we celebrate World Oceans day by cleaning Golden Gardens.
Additional Details:
When: Saturday, June 11th
Where: Golden Garden Park

Meet outside of Golden Gardens Bathhouse

Time: 10am – 12pm
Attire: Dress for the elements (Jacket, long pants, sturdy shoes/boots, etc.)
All cleaning materials will be provided to you.