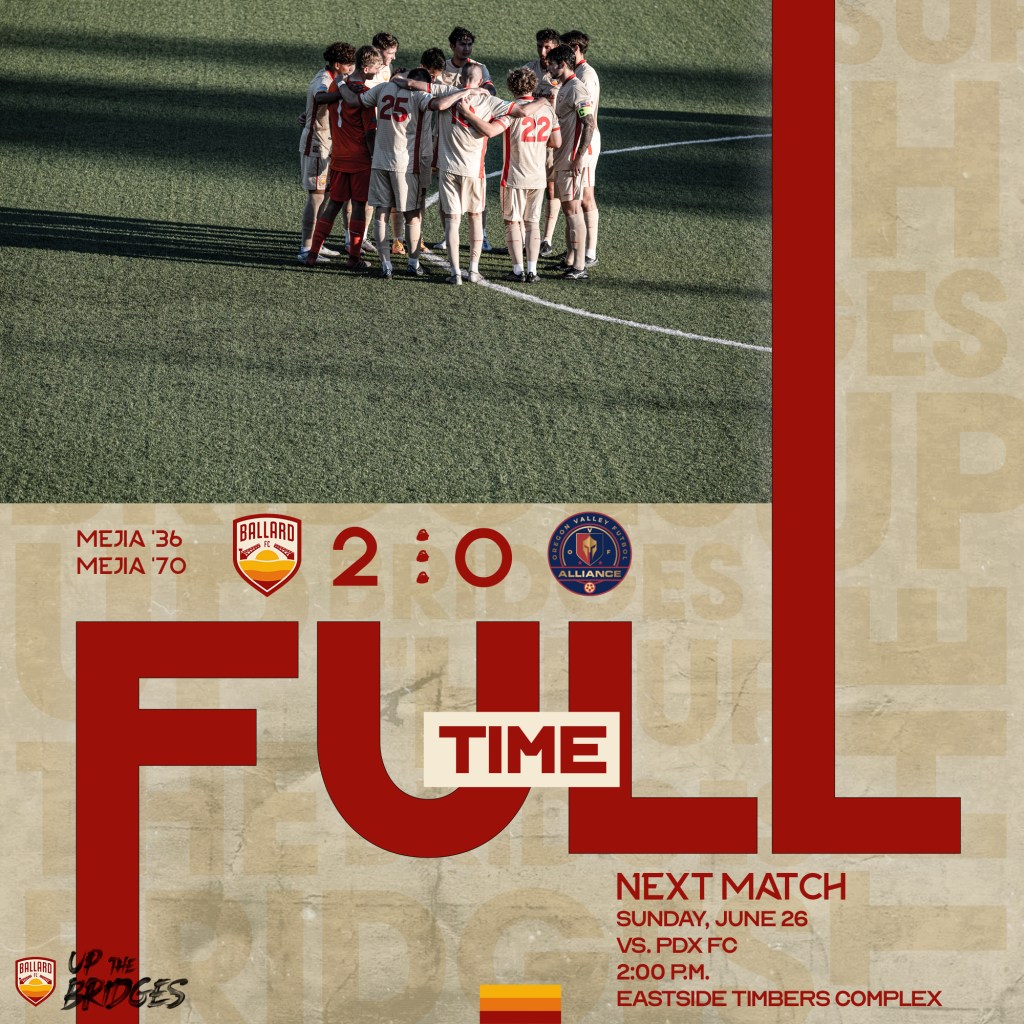 An Alex Mejia brace inspired Ballard FC to a 2-0 win as they beat OVF Alliance for the second time in a week on Nordic Night.
For the first time in two weeks, Ballard FC was back at Interbay in front of their home crowd. The stadium was electric, another sold out crowd and the Bridgekeepers led chants of "Up The Bridges!" all match long.
Friday Night was Nordic Night and fans came out showing their Nordic pride while enjoying food from local Nordic favorites, Skål Beer Hall and Manic Meatballs. Interbay was a party and the match itself matched all of the fanfare.
The match started tight with both teams coming close. In the 21st minute, Ballard FC Goalkeeper Lars Helleren made a diving stop, denying a header destined for the bottom corner.
After Helleren's save, Ballard FC started to take control of the match and created multiple good chances.
Eventually, Ballard FC did find the breakthrough in the 36th minute. Declan McGlynn dribbled into the box and through a couple of OVF defenders and the ball popped out right to Alex Mejia's feet. Mejia quickly dispatched the ball into the bottom corner, scoring his third of the season and getting his first goal in four games.
Ballard FC rode that momentum and created a few more dangerous opportunities before halftime, going into the break as 1-0 leaders.
OVF started the second half strong and just four minutes forced another big stop from Helleren, this time from very close range.
Helleren was huge all night, making big saves and impressing with his feet and making him Friday's Man of the Match.
OVF continued to push for an equalizer, even making a triple substitution in the 68th minute to bring some energy to the attack. But quickly after the subs were introduced, Mejia put the game to bed.
In the 70th minute, right back Nik Reierson forced a turnover in a dangerous area and the ball came out to Kevin Galiano. Galiano quickly passed to Mejia, who turned and finished smartly with a toe poke into the far corner.
Mejia now has four league goals on the season and is tied with McGlynn for most on the team. Mejia and McGlynn are tied with Capital FC's Gabriel Silva for Northwest Division leading scorer.
Ultimately, Ballard FC finished as 2-0 victors and stay top of the division standings.
Ballard FC plays again tomorrow, hitting the road to take on PDX FC at 2 PM at the Eastside Timbers Complex. You can live stream tomorrow's match on Eleven Sports or watch live at Reuben's Brews.
Ballard FC will return to Interbay Stadium on Friday July 1st to take on Capital FC, who are currently level on points at the top of the table. Tickets are sold out, but you can still purchase tickets to the July 15th friendly against Snohomish County FC here.
Photos courtesy of Blake Dahlin and Marissa Lordahl
Highlights: