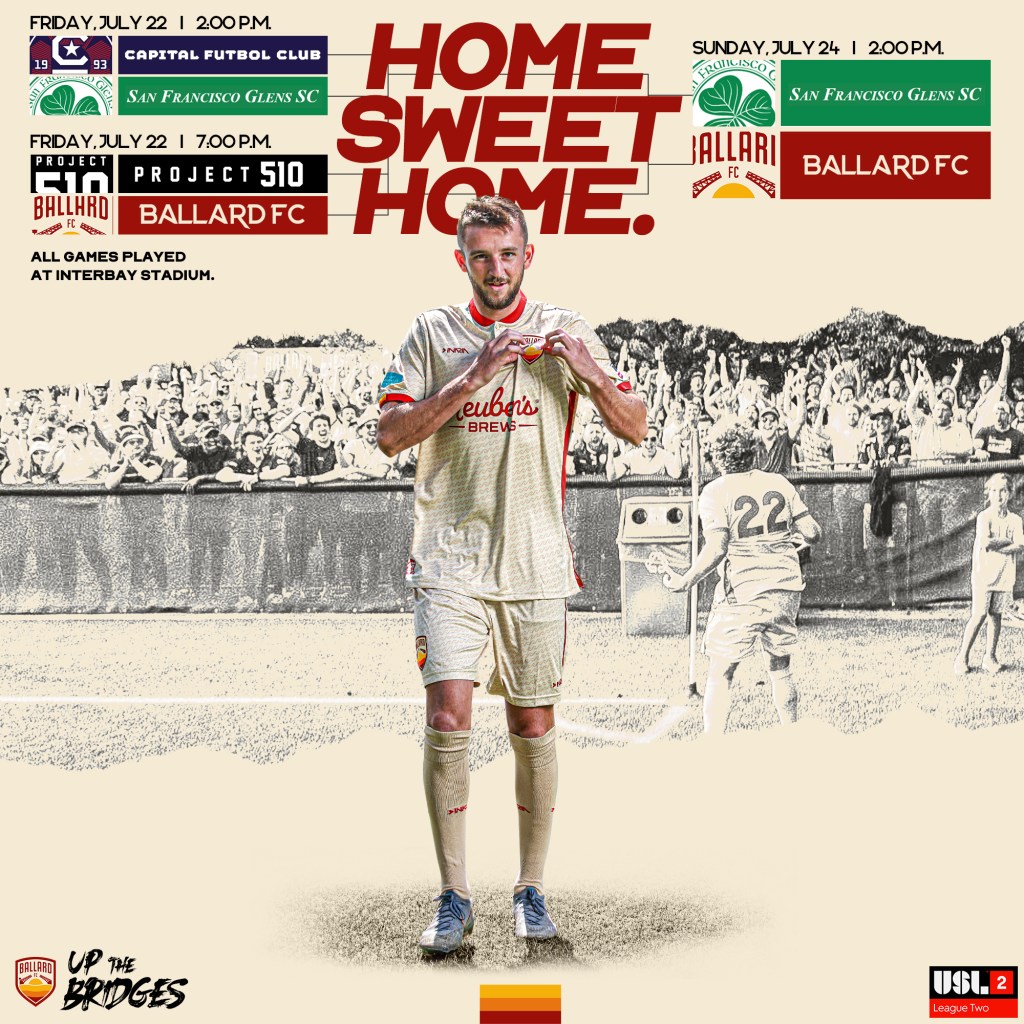 After defeating Project 51O on Friday night, Ballard FC are set to play in the conference semifinals Sunday July 24th at 2:00 PM.
Ballard FC are the fourth seed and had to upset the third seeded Project 51O to get to this point, but they were not the biggest underdog winners on this side of the bracket.
The San Francisco Glens started their postseason run by defeating CFC Atletico, the first seed in the entire Western Conference who had only lost once all year. The Glens defeated CFC by a score of 3-2 on Friday with a brace from striker Max Chretien, sandwiching the solo goal from Junior Mahi.
Chretien opened the scoring in the 17th minute with a header after latching onto a cross from right-back Nathan Simeon.
After causing trouble all match, winger Junior Mahi finally got his goal early in the second half after a long solo run and squeezing a finish past the keeper.
CFC came roaring back, with Jose Sosa placing a free kick into the bottom corner in the 70th minute. Only seven minutes later, Sosa would send in a corner that was finished by CJ Tibbling-Ugwo. CFC looked dangerous on set pieces all match and finally took advantage of their size against the smaller Glens defense.
In the 82nd minute, CFC won a penalty but Glens keeper Elliot Jones made the biggest save of the season sprawling to his left to save Tibbling-Ugwo's effort.
Minutes later, Chretien would get his brace after the ball was spilled by the keeper to put the Glens back in front. From there, the Glens defense stood tall to hold on to the win and advance to the semifinals.
The Ballard FC match later that evening was similar, with Ballard taking a two goal lead and holding onto a one-goal advantage at the end. You can read the post-match report here.
This sets up a fantastic semifinal between the fourth seeded Ballard FC and eighth seeded Glens. Ballard will look to cause similar issues on set pieces like CFC did with target center backs Christian Engmann and Leo Burney. The Glens will look to possess and score in transition like they did successfully on Friday.
Interbay Stadium will be rocking once again on Sunday after setting a record attendance of over 1,300 people for Friday's match. The crowd has been such a factor for Ballard FC all season, and it will need to be again Sunday. There are still tickets available to Sunday's match and with a trip to the conference finals on the line, a packed stadium could be all the difference. Purchase your tickets, and will see you soon!